Gujarat police says VHP leader Pravin Togadia staged lost-found drama, faked illness
Updated on Jan 16, 2018 10:09 PM IST
Police alleged that Pravin Togadia had planned everything in advance to evade arrest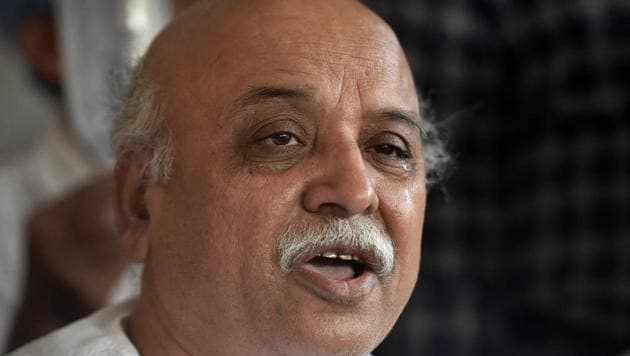 The Gujarat police on Tuesday dismissed Vishwa Hindu Parishad international working president Pravin Togadia's allegation that there is a threat to his life, a day after he disappeared for nearly 12 hours and was found in a private hospital later.
Togadia alleged that he fell unconscious while trying to escape a Rajasthan police team that was out to kill him in an "encounter", a term used for extra-judicial killings.
The Ahmedabad crime branch accused Togadia of staging the lost-and-found drama and faking his illness on Monday when Rajasthan police personnel came to execute a court's arrest warrant against him in a 2001 case of breaking prohibitory orders in that state.
According to police, the 62-year-old leader was fit and admitted to a hospital by his aide.
"At 11.10am, Togadia left the VHP office in Paldi, Ahmedabad, with Dhiru Kapuriya and reached the house of Ghanshyambhai Charandas in Thaltej at 11.30am. Charandas rang up his driver, who then called an emergency ambulance service to the Kotarpur area," joint commissioner of police JK Bhatt said.
Togadia was allegedly driven to Kotarpur where he shifted to the ambulance when it reached the spot. He was conscious, his were parameters normal, and was accompanied by Ghanshyambhai, the officer said.
The ambulance staff wanted to take them to the nearby civil hospital but the duo allegedly insisted on going to Chandramani private hospital, where doctors later said Togadia was in a semi-conscious state when he arrived.
Police alleged that Togadia had planned everything in advance to evade arrest as Ghanshyambhai had contacted Dr Rupkumar Agrawal of the private hospital around 6am. The hospital is located barely 8km from the VHP office.
According to officers, Togadia left his office with an aide and wasn't accompanied by his guards. The VHP leader gets Z-category security cover.
Appearing in a wheelchair with a cannula for intravenous injections fixed on a hand, Togadia told reporters on Tuesday that he left the VHP office in an auto-rickshaw and reached a friend's home after being informed that Rajasthan police had sent a team to kill him.
He then headed for the airport in another auto-rickshaw to catch a flight to Jaipur and present himself in a court, but couldn't as he fell unconscious on the way, the firebrand right-wing leader said. "I woke up at the hospital in the night."
According to Gujarat police, two Rajasthan policemen accompanied by a local team visited Togadia's home in the Sola neighbourhood, but never went to VHP office in Paldi. The policemen returned when they couldn't find the VHP leader in his home.