Gujarat: History, morals and feeding cow on birthdays
Updated on Sep 23, 2017 07:40 PM IST
The books authored by the convener of Shiksha Bachao Andolan Samiti mostly impart lessons on moral values and India's culture and history.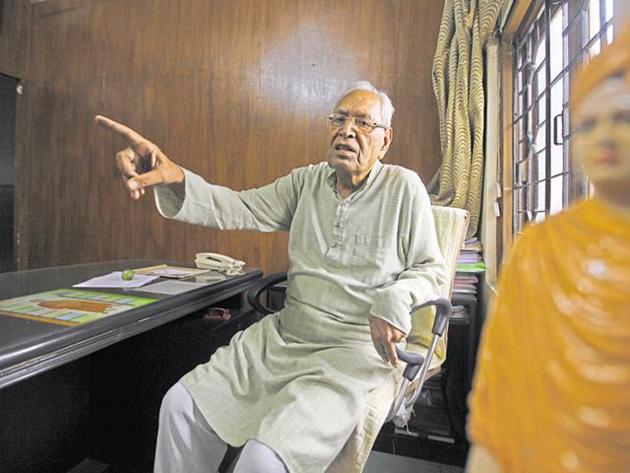 In Gujarat, in June 2014, over 40,000 government primary and secondary schools were directed to introduce books penned by RSS ideologue Dina Nath Batra as supplementary literature. The books authored by Batra, who is the convener of the Shiksha Bachao Andolan Samiti, mostly impart lessons on moral values and India's culture and history. The books translated from Hindi to Gujarati and published by the Gujarat State School Textbook Board (GSSTB) talk about "Akhand Bharat" (undivided India) and advocate doing havan and feeding cows on birthdays instead of following western culture of blowing candles.
"Supplementary books are not part of the curriculum. No questions related to such books are asked in examinations. Schools have just been asked to keep these books," M I Joshi, director, primary education, told Hindustan Times.
Just a month before, the state government issued a circular to schools on Batra's books, and state education minister Bhupendrasinh Chudasama announced that chapters on the life of the Prime Minister Narendra Modi would be included in the textbooks of primary schools.
"The chapters may include events starting from his birth, his humble family background, schooldays, how he faced struggle at different stages of his life and what are the circumstances behind his decision to become a monk," Chudasama had said on May 29, 2014.
He had said that in an effort to teach leadership skills to the students, inspiring events which took place before Narendra Modi became the PM would be included as chapters in textbooks. The government had even decided to form a committee to finalise the events to be included. The idea, however, was scrapped within 24 hours of the announcement. "I firmly believe that the life story of living individuals should not be included as a part of the school curriculum," Modi had tweeted.