Karnataka portfolios out, Kumaraswamy, Parameshwara retain coveted ministries
Updated on Jun 09, 2018 01:59 PM IST
Kumaraswamy has retained the 11 portfolios, including finance, while deputy chief minister G Parameshwara has been assigned the Home department in the Karnataka cabinet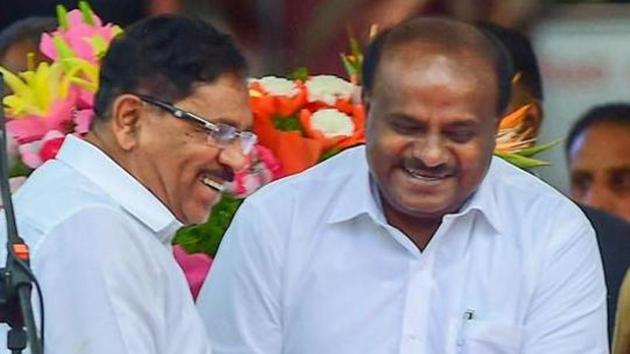 Chief minister HD Kumaraswamy and deputy chief minister G Parameshwara kept plum portfolios with themselves in the Karnataka coalition government, taking charge of some contentious ministries for which many leaders had lobbied.
The Congress-Janata Dal (Secular) coalition government released a list of portfolios on Friday, which revealed that Kumaraswamy would be in charge of 11 portfolios and departments including finance, energy and excise department apart from ones which was not assigned to anybody.
Parameshwara, meanwhile, will take charge of the coveted Bengaluru development ministry, which controls the Bengaluru Development Authority and the local corporation, apart from the home portfolio.
The energy ministry had seen much lobbying, especially from Kumaraswamy's elder brother HD Revanna and former energy minister DK Shivakumar of the Congress. The excise department has now been clubbed with finance.
Revanna has been allotted the public works department, which he had held in two previous stints as well. Shivakumar has been given the major irrigation ministry and the medical education department as well.
Congress leader KJ George has been entrusted with the Heavy Industries portfolio along with the Sugar department, which was a separate ministry in the previous government. Bandeppa Kashempur of the JD(S) has been given the cooperation department.
Another sought-after post, that of transport, has been given to DC Thamanna of the JD(S). GT Deve Gowda, who defeated former chief minister Siddaramaiah has been named the higher education minister. According to his affidavit, Deve Gowda's educational qualification is Class 8 pass.
Priyank Kharge has been named as the social welfare ministry and Krishna Byre Gowda has been given law and parliamentary affairs department. The lone Bahujan Samaj Party member of the government, N Mahesh, has been given the primary and secondary education portfolio. Jayamala, the lone woman minister, has been entrusted the women and child welfare and the Kannada and culture departments.
Personalise your news feed. Follow trending topics