Heavy rain hits north, many dead in final monsoon burst
Hindustan Times, New Delhi/Chandigarh |
HT Correspondents
Sep 24, 2018 11:42 PM IST
The weather department said this year's monsoon rainfall, the lifeblood of India's farm sector, was 9% lower than normal, but a detailed report was expected in the first week of October. T
A spell of heavy rainfall that threw traffic out of gear in several areas of the National Capital Region on Monday had a far more devastating impact on other parts of north India, killing at least 11 people in the past 24 hours across three states and triggering flash floods and landslides in the hill states of Himachal Pradesh and Jammu and Kashmir.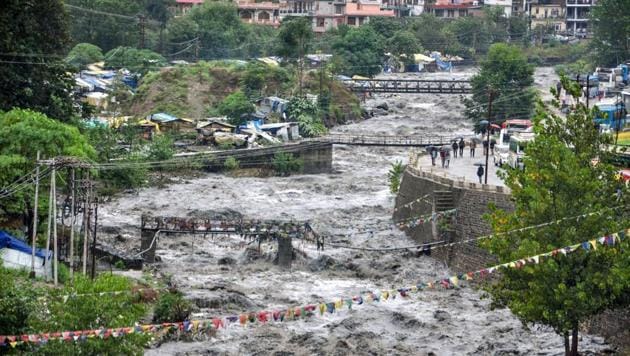 Five people, including a girl, died and as many were injured in separate rain-related incidents in Kullu, Kangra and Chamba districts in Himachal Pradesh, officials told news agency Press Trust of India (PTI). In Haryana's Ambala, a 45-year-old man died when the roof of his house collapsed due to heavy rains, police told PTI. In Jammu and Kashmir, five members of a family, including three minors, were killed after their house was buried under debris following a landslide in Doda district.
An alert was issued in Punjab, where educational institutes will be closed on Tuesday. Himachal Pradesh, too, announced the closure of educational institutions in Chamba, Kullu, Sirmaur, Kangra and Hamirpur districts till Tuesday.
In Delhi, three days of rain cleaned up the air and brought down the maximum temperature to 27.8 degrees Celsius, which was six degrees below normal on Monday. The weather department said the skies were likely to start clearing up from Tuesday. "We are expecting sporadic incidents of very light rain in isolated parts...This was the last monsoon rain in Delhi," said BP Yadav, deputy director general of the India Meteorological Department (IMD).
Traffic snarls and waterlogging were reported in Delhi and neighbouring Gurugram, where a slow drainage system made vehicles crawl in arterial roads.
In a statement, IMD said monsoon rains were likely to start withdrawing from the north-west from Saturday. The monsoon usually starts withdrawing from the region in the first week of September, but this year it was delayed by nearly four weeks, said IMD scientist Charan Singh.
The weather department said this year's monsoon rainfall, the lifeblood of India's farm sector, was 9% lower than normal, but a detailed report was expected in the first week of October. The deficit, and now the heavy rain, raised concerns over the production of Kharif, or summer-sown, crops.
Himachal Pradesh's Kullu, a popular tourist destination, was one of the worst-affected districts in the recent showers. The government in Punjab, which has been facing heavy showers for the past two days, asked all district authorities to remain vigilant.
"Punjab and Haryana are likely to be dry by September 28, so will be parts of west Rajasthan," said IMD's Singh.
Weather officials said the region was getting a "double dose" of rainfall because westerly winds were "hooking" most winds over central India caused by Cyclone Daye, towards the north.
The IMD forecast also warned of heavy rain at isolated places over Tamil Nadu, Karnataka, Kerala, which is still reeling from the recent floods, Arunachal Pradesh, Assam and Meghalaya between September 25 and September 28.
Topics