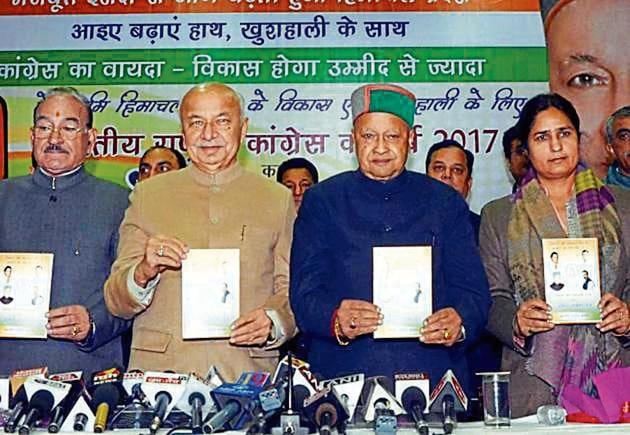 Congress woos farmers, students in Himachal poll manifesto
All marginal and small farmers would get an interest-free loan of Rs 1 lakh, while 50,000 laptops would be distributed annually to check dropouts from government schools.
UPDATED ON NOV 02, 2017 01:32 PM IST
The ruling Congress in Himachal Pradesh released its manifesto for the upcoming Himachal Pradesh assembly polls, promising to create 1.5 lakh jobs in the government sector and announcing free laptops for 50,000 meritorious college students.
To woo the agrarian community, it also promised interest-free loans to farmers.
The party added that if it returns to power, all categories of employees will be granted a special grade pay scale.
Releasing the manifesto along with chief minister Virbhadra Singh, AICC general secretary Sushil Kumar Shinde and AICC secretary Ranjit Ranjan at the party office here, health minister Kaul Singh Thakur said, "All marginal and small farmers in the state will be extended an interest-free loan of Rs 1 lakh without following strict conditions." The party also promised 90% subsidy on seeds, fertilizers, agriculture equipment, anti-hail nets, fencing of farms and rainwater harvesting structures.
To woo the youth, which constitute a major chunk of voters in the state, the party announced a raise in the unemployment allowance from Rs 1,000 per month to Rs 1,500 and Rs 2,000 for the unemployed disabled youth. The document also mentioned a relaxation in conditions laid for unemployment allowance — a major poll plank in the previous elections.
The party also proposed regularisation of contract employees in two years and promised that daily wagers and outsourced staff will be regularised in three years. The manifesto added that senior citizen above 60 years will get social security pension and those above 75 will get a pension hike.
Reiterating its stance for zero tolerance for corruption, Kaul said Thakur said, "Our government will put in place mechanism to monitor corruption cases. A grievances commissioner will be appointed, who will help to fulfil our commitment of providing a responsible ... government."
Close