Himachal school teacher leaked CBSE Class 10 maths paper too: Police
Police said Una DAV School teacher Rakesh admitted to collecting question papers of maths and economics when he went to collect computer science and information practices papers from a UBI branch.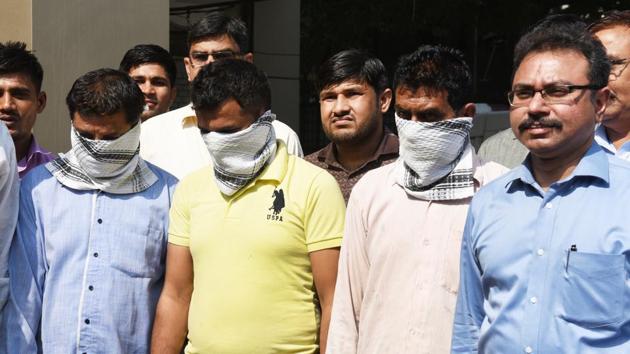 Updated on Apr 12, 2018 10:11 PM IST
Hindustan Times, New Delhi |
Shubhomoy Sikdar, New Delhi
Rakesh Kumar, the school teacher arrested on April 7 for allegedly leaking the CBSE Class 12 economics paper, also revealed the Class 10 mathematics paper, said the Delhi Police on Thursday.
Both the question papers were leaked last month causing nationwide furore and sparking protests at various places. The Delhi Police Crime Branch had registered two separate cases in connection with leakage of both the question papers.
Police achieved a major a breakthrough with the arrest of Rakesh, who taught commerce at DAV School in Una in Himachal Pradesh, and two of his colleagues on April 7. Amit Sharma, a clerk and Ashok Kumar, a peon of the school, were also arrested in connection with the case.
"Rakesh had initially said that when he went to collect the question papers of computer science and information practices from a Union Bank of India branch in Una on March 23, he picked up a packet of economics paper as well. But he later admitted to have picked up a Class 10 mathematics paper bundle as well," said deputy commissioner of police (crime) G Ram Gopal Naik. The maths examination was held on March 28.
The economics paper was leaked on March 23 — three days before the exam date. Rakesh had purportedly leaked the Class 12 economics paper to help a student who took private tuitions from him, but ended up sharing it with his relative too from where it went viral through more than 30 WhatsApp groups in Delhi, Punjab and Haryana. His reasons behind leaking the Class 10 paper, however, were not shared by Naik.
Police have clarified that so far, no monetary angle has come up as a motive for leaking either of the two papers.
Earlier last month, in a police complaint, the board had said that a day before the exam, an e-mail was received on the CBSE chairperson's official ID informing about the leak, according to officials.
In the mail, the sender had stated that the mathematics paper was leaked on WhatsApp, they added. The mail also contained attachments of the handwritten mathematics paper allegedly leaked on WhatsApp, according to the complaint.
Delhi Police had registered two cases. The first case in connection with the leak of the Class 12 economics paper was lodged on March 27 and the second pertaining to the leak of the Class 10 mathematics paper was lodged on March 28, following a complaint by the regional director of CBSE.
The cases were registered on charges of criminal breach of trust, cheating and criminal conspiracy.
Close Story
Personalise your news feed. Follow trending topics