How single-teacher schools expose the hollowness of India's education dream
The Right to Education guidelines prescribe one teacher for every 30-35 students in government and private schools. However, data provided by the government paints a picture that's light years from rosy.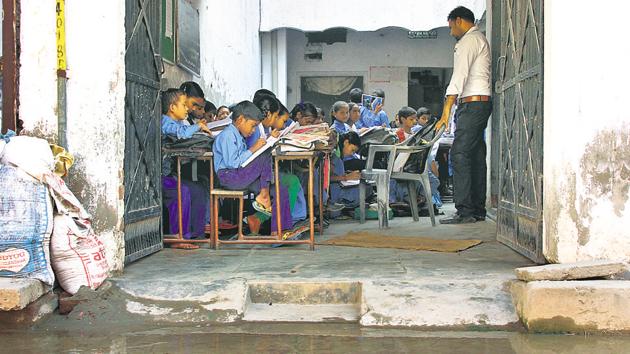 Updated on Mar 25, 2017 06:15 PM IST
Hindustan Times, New Delhi/Patna/Bhopal/Hyderabad |
Neelam Pandey, Arun Kumar, Shruti Tomar & Srinivasa Rao Apparasu
Ashok Kumar is a headmaster, class teacher and office staffer all rolled in one at a primary school in Bechutola, Bihta, barely 50 km from Patna. The school, likewise, is a single room that accommodates 80 students from classes one to five.
When Kumar teaches students of the lower classes, he expects the older ones to revise their lessons. He insists that they read and write, not make noises that would disturb their schoolmates. When the mid-day meal is served, they are shifted to the verandah.
"Nothing has changed since I began working here in 2003. I try to teach by segregating students. At times, I ask some of them to sit outside," says the teacher, who is trying to acquire a graduation degree through a correspondence course.
The students, in turn, try to make the most of the situation by obeying their teacher. "When sir teaches students of other classes, we either listen or revise what's already been taught," says Mansi Kumari, a class four student.
That said, the condition of the school is far from ideal. Last month, chief minister Nitish Kumar wondered why school attendance remained low despite his government dedicating 20% of the annual budget to education. A visit to this humble school in Bihta should provide him with an answer.
Over 800 km east of Patna stands Bal Vihar, another single-teacher primary school. Though it is located in Bhopal, the capital of Madhya Pradesh, its infrastructure is nothing to write home about. The burden of teaching five classes with two dozen children in a single room rests squarely on the shoulders of Pavan Kishor Mishra. Mishra's responsibilities do not end there. He also has to handle other tasks usually undertaken by non-teaching staffers, such as locking and unlocking the room, overseeing the mid-day meal programme, and ensuring that all the bills are paid for. Mishra – who is physically challenged – follows the 'one day-one subject' principle to teach his students. So, mathematics is taugh on Monday, English on Tuesday, Hindi on Wednesday, science on Thursday, and so on.
Kumar and Mishra are no anomaly in the country's education system, which has 97,923 single-teacher primary and secondary schools. According to data compiled by the Unified District Information System of Education, Madhya Pradesh topped the 2015-16 list with 18,190 such institutions – followed by Uttar Pradesh with 15,669 and Rajasthan with 12,029. Of these, about 82,000 are primary schools.
The Right to Education guidelines prescribe one teacher for every 30-35 students in government and private schools. However, data provided by the government paints a picture that's light years from rosy.
"While single-teacher schools were introduced to address the educational needs of children in marginalised and remote habitations, they compromise the basic parameters of quality education. Such institutions jeopardise factors such as classroom transactions, individualised attention to children, and continuous and comprehensive evaluation – all of which are essential. Shortage of teachers, the main reason for the existence of such schools, is a concern in many states," says Komal Ganotra, director, policy and advocacy, Child Rights and You.
The effectiveness of single-teacher schools is anybody's guess. When A Madhusudha Reddy – the 57-year-old teacher at the mandal parishad primary school at Inamguda village in Telangana's Ranga Reddy district – falls ill, as many as 23 students get a holiday. "I have been working in this school for the last seven years. However, despite my best efforts, the student strength has not gone up," he says.
In the 2017 budget, the NDA government unveiled a system to measure annual learning outcomes at schools. "That's easier said than done in a country with nearly a lakh single-teacher schools. We failed miserably at achieving our millennium development goals of effecting universal primary education by 2015. If adequate measures are not taken, this dream will remain unfulfilled even as late as 2030," says Anisha Ghosh, programme officer, children and governance, Centre for Child Rights.
Upendra Kushwaha, the Union minister of state for human resource development, recently sought to shift the blame by saying that recruitments, service conditions and redeployment of teachers lie primarily in the domain of state governments. "However, the Centre provides financial assistance to state governments for additional teachers under the Sarva Shiksha Abhiyan and Rashtriya Madhyamik Shiksha Abhiyan to maintain the pupil-teacher ratio. The Centre is consistently pursuing the matter of expeditious recruitment and redeployment of teachers..." he said in Parliament.
In this year's budget, the NDA government stressed on ensuring quality education by gauging learning outcomes in various subjects at the elementary level (from classes one to eight). However, that seems like an ambitious goal in the current scenario.
Close Story
Personalise your news feed. Follow trending topics