HTLS 2016: Demonetisation gains uncertain, says Nobel laureate Paul Krugman
Updated on Dec 02, 2016 06:47 PM IST
Noble laureate and economist Paul Krugman has termed India's demonetisation move as "unusual", saying while there are "significant to low costs", it is hard to see "significant gains" from the decision.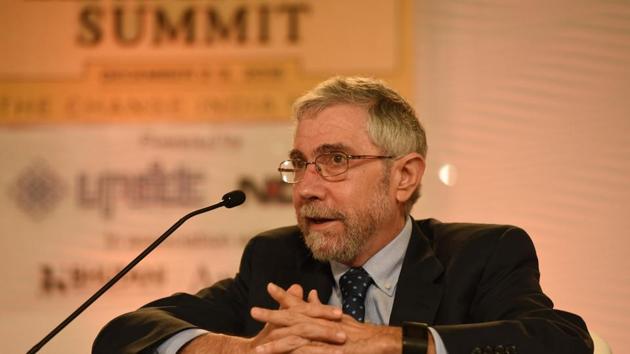 It is difficult to see major gains from India's decision to drain out high-value banknotes from the economy, and the move might only force the corrupt to become more careful in the future, Nobel laureate and economist Paul Krugman said on Friday.
Instead, Krugman said, there will be significant-to-low costs to the so-called demonetisation, although he still saw India as a high-prospect economy.
Speaking at the 14th HT Leadership Summit, the 63-year-old economist said there was a good case to be made that high denomination banknotes didn't serve a legitimate purpose.
"But that did not happen here. High-value notes are not being eliminated. This seems like a one-off attempt to flush out illicit cash," Krugman said of the government decision to scrap 500-and 1,000-rupee bills to purge the economy of illicit "black money".
The government has issued new 500-and 2000-rupee bills, and said it will later bring back new Rs1000 notes as well.
Krugman, who won the Nobel in 2008 for his work on global trade, said while he could understand the motivation for demonetisation, the move was "highly disruptive".
Read| Demonetisation pangs will last for a quarter, but benefit India in long run: FM
But could such an exogenous shock transform behaviour? "I would be happy to be proven wrong. There could be some permanent change in behaviour. People will be more careful and sophisticated in laundering their money in the future," he said.
Krugman said Indian economy, to him, looked like "China with a 15-20 year-old lag".
"It has reserves of entrepreneurial rigour, reserves of educated people, wide use of English, and unlike China, it has not hit the demographic wall. It has a lot of potential."
Watch | What Paul Krugman thinks is the Change India Needs
In pics: Live sketches by New Yorker's Liza Donnelly from HTLS 2016
For live coverage of HTLS 2016, click here
Full coverage of HTLS 2016 here
Personalise your news feed. Follow trending topics