Demonetisation pangs will last for 3 months, but benefit India in long run: Jaitley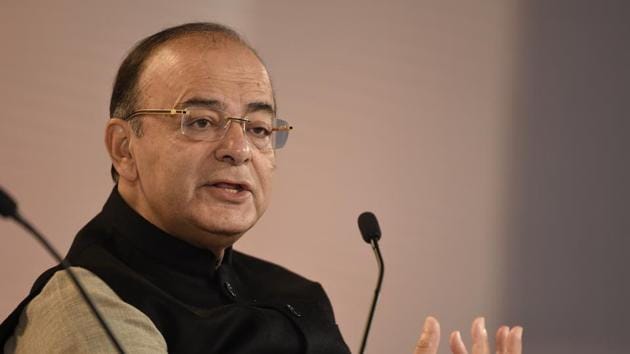 Updated on Dec 03, 2016 12:50 AM IST
Finance minister Arun Jaitley said on Friday the recall of 500-and 1000-rupee notes will cause just three months of disruptions before yielding substantial benefits for the economy.
In a year, he sees a bigger and cleaner economy with less paper currency, a wider tax base with lower rates, and more money in the banks resulting in cheaper loans. All of this will help the country's ambition of becoming a modern and digital economy befitting its status as the world's fastest growing major economy.
"If you switch over from a particular way of life and conducting expenditure, there is disruption. But I do not see the disruption lasting long, maybe a quarter or so. But if you look at the next 12 or 15 months, the impact will be beneficial," Jaitley said at the inaugural session of the Hindustan Times Leadership Summit in New Delhi.
The government recalled 500-and 1,000-rupee notes on November 8, culling 86% of cash in circulation to purge the economy of illicit "black money" and fake bills.
The move, said Jaitley, will prove a windfall in many ways. Banks, flush with money from new deposits, will be able to give social, infrastructure, industrial, and trade loans at lower rates. He, however, said the amount of new banknotes being released will not touch the November 8 level, and that will help the country along the path of becoming a digital economy.
Watch | We need to replace the cynicism amongst the common man: Arun Jaitley
"The volume of formal trade and business will grow in size... What was normal in India? You go and buy a property, you pay some amount in cash, some in cheque. You start a trade, wholesale or retail, there is so much in kaccha khaata and so much in pucca. Do developed economies behave like this?" he argued in defence of the so-called demonetisation.
He said the purging existing high-value notes strikes at the stock of black money.
The flow part of it will be curbed by the goods and services tax, which, by establishing a transparent and uniform system of indirect taxes across the country, will prevent the generation of black money in trade and business.
A next possible step, said Jaitley, could be to make political funding more transparent.
"The current move will create a situation where political funding will become far more transparent. At the end of the day, donors will say, 'Where do I bring this money from? The only donation I can give is legitimate cheque donation'".
Watch | Finance minister Arun Jaitley in conversation with Vikram Chandra at HTLS 2016
Follow live coverage of Hindustan Times Leadership Summit 2016, Day 1 here
Close Story