Husband, in-laws sell woman's kidney for not meeting dowry demand; 2 arrested
Updated on Feb 06, 2018 09:12 PM IST
In her complaint, 28-year-old Rita Sarkar said her husband Biswajit took her to a private nursing home in Kolkata two years ago where, on the pretext of an appendix operation, her kidney was removed.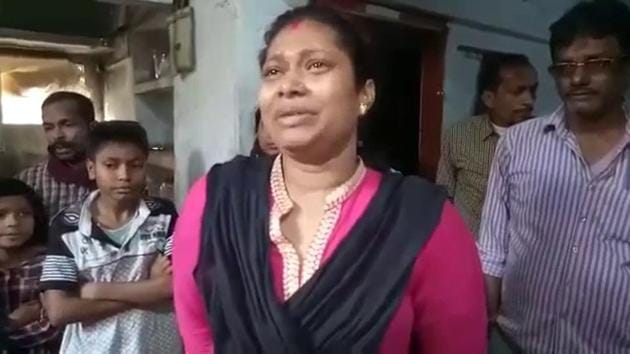 Hindustan Times, Berhampore |
Sreyasi Pal
West Bengal police have arrested a 28-year-old woman's husband and brother-in-law after she complained that they tricked her to sell one of her kidneys because her family failed to meet their demand for Rs 2 lakh in dowry.
According to the complainant by the woman, Rita Sarkar, her husband of 12 years and her in-laws tortured her often for dowry and took advantage of her appendicitis to steal a kidney from her.
"Around two years ago, I began suffering from acute stomach ache. My husband took me to a private nursing home in Kolkata, where he and the medical staff told me that I would be fine after removing my inflamed appendix through surgery," she said.
But her pain persisted, or rather intensified, after the operation. "My husband warned me not to disclose the surgery in Kolkata to anyone. I begged him to take me to a doctor to treat the pain, but he ignored me."
Rita was allegedly taken to North Bengal Medical College and Hospital by relatives from her parents' side around three months ago and doctors found that her right kidney was missing.
Shocked, she sought a second opinion at a nursing home in Malda and learnt that one of her kidneys was indeed not there.
"I then understood why my husband implored me to keep quiet about the surgery. He sold my kidney because my family couldn't meet his demand for dowry," she alleged.
Rita then filed a complaint at Farakka police station in northern Bengal, the native place of her parents, against husband Biswajit Sarkar, a cloth merchant from Lalgola in Murshidabad district, his brother Shyamal and her mother-in-law, Bularani, who is on the run.
The husband and his brother were arrested on Monday, inspector Udayshankar Roy said.
They were charged under Section 19 (punishment for commercial dealings in human organs) and Section 21 (offences by companies involved in any such act) of the Transplantation of Human Organs Act and IPC sections 307 (attempt to murder) and 498 (detaining a married woman with criminal intent).
The men allegedly confessed that the kidney was sold to a businessman in Chhattisgarh. "Murshidabad police will raid the Kolkata hospital where the surgery was conducted," said a senior police officer who didn't want to be identified.
Police suspect a kidney smuggling gang is associated with the crime. "A special team has been formed to investigate," the officer said.
The crime almost eclipsed another allegation that the woman, a mother of an 11-year-old son, was harassed and assaulted for dowry ever since she got married in 2005.
The country has strict anti-dowry laws. Still, domestic violence and heinous crimes against women are commonplace as the dowry demand often continues for years, especially in rural areas where a daughter is considered a liability.