Hyderabad univ suspends 10 students, 3 of them for two years for misconduct
After a spat over the presence of a female student in a male boarder's room at night turned ugly, university authorities cracked the whip and suspended ten students.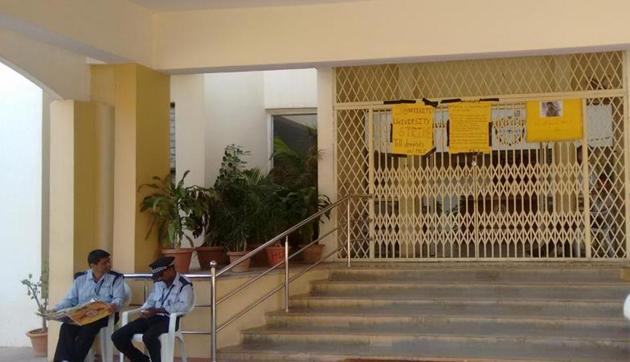 Published on Nov 08, 2017 08:35 PM IST
The University of Hyderabad on Wednesday suspended 10 post-graduate students for allegedly intimidating, verbally assaulting and preventing officials from performing their duties on November 3, prompting the students to accuse authorities of moral policing.
Acting on a report submitted by an inquiry committee constituted by Vice Chancellor Prof P Appa Rao, the university suspended three students from all academic programmes and hostel for a period of two years after finding them guilty of grave charges. Another seven students who allegedly indulged in related acts of stopping the wardens and security staff from discharging their duties were suspended for six months from academic programmes and hostel.
According to university sources, a team of hostel wardens went on a surprise visit to Men's Hostel-J (MHJ) late on the night of November 3, following a tip off that a female student was staying in the room of a male boarder. When the wardens objected to it, the students entered into argument with them. Soon, it led to a big commotion and heated arguments between the students and the officials.
A university spokesman alleged that the students had gheroaed the wardens and threatened them with physical violence. "The students also used derogatory language, attempted to intimidate and browbeat the officials including faculty members," he said.
The students have a different version. Yamarthi Sai Kumar, a Student Federation of India (SFI) leader and one of the suspended students, told Hindustan Times that no warden was assaulted.
"More than 200 students gathered at the hostel. Though the girl student was not supposed to be present in the boy's hostel as per rules, she said she had come to meet her classmate to discuss some subject-related issues. In any case, the students only questioned the wardens for disturbing the students in the late hours and intimidate them," he explained.
Read more: Hyderabad varsity: Tribal students protest bid to disqualify union leader, to 'fast unto death'
He said it was wrong on the part of the university authorities to indulge in moral policing in the late hours. "If the girl student was at fault, there is a procedure to seek explanation from her," he said.
Following the incident, the Vice Chancellor constituted a committee comprising Humanities professor Panchanand Mohanty, Social Sciences Dean Prof Venkat Rao, Chief Security Officer T V Rao and Chief Warden Belavadi Vasuki the following day.
"The committee met for two days and as many as 12 students deposed before it. The committee submitted its report to the VC on November 6," the spokesman said.
The committee held 10 students guilty on various charges and recommended their suspension.
The university hit the headlines in January 2016 following a PhD scholar Rohith Vemula's suicide days after he and four other students were suspended by the Hyderabad Central University and barred from its hostel. His friends and family alleged that he was ostracized because he was a Dalit.
The suicide sparked protests by students. And so did the Justice Roopanwal Commission report in August this year after it concluded that Vemula was not a Dalit and he committed suicide because he was frustrated due to personal reasons not related to his eviction from the hostel.
Close Story
Personalise your news feed. Follow trending topics