We told them 'target terrorism', they aimed at Modi: PM's big charge at Congress, Sonia Gandhi
Published on Nov 27, 2022 05:46 PM IST
Congress leader cried for terrorists when the Batla house encounter took place in Delhi, PM Modi said without naming Sonia Gandhi. "No one can forget how Congress used to put all its effort to release terrorists," PM Modi said in Gujarat.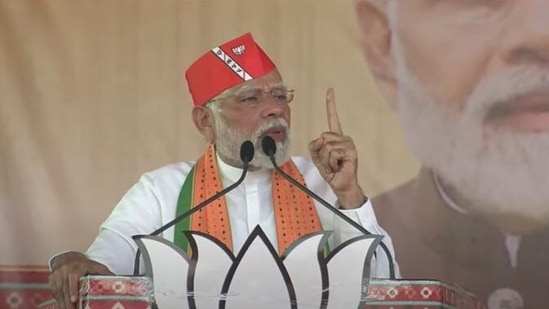 Campaigning in Gujarat, Prime Minister Narendra Modi on Sunday accused the Congress of shielding terrorists when it was in the power in the Centre. Addressing a public meeting in Kheda, PM Modi said Gujarat has borne the brunt of terrorism for ages. Gujarat always wanted to end terrorism; the BJP government in Gujarat cracked down on the sleeper cells of terrorists. "We used to take action against terrorists. But no one can forget that the Congress government at the Centre used to work towards releasing those terrorists," PM Modi said.
Full coverage of Gujarat Assembly Election 2022
"We told them to target terrorism, but the Congress government targetted Modi. And as a result, terrorists became fearless and terrorism raised its head in big cities," PM Modi said.
Referring to the Batla house encounter in Delhi, PM Modi said, "Remember, a Congress leader cried for the terrorists." In his attack, PM Modi, however, did not take Sonia Gandhi's name.
The Congress sees terrorism through the prism of vote bank and appeasement. "Not only the Congress, now there are many such parties who are embracing the shortcuts of appeasement to come to the power," PM Modi said.
"Your votes in 2014 changed the scenario. Now terrorists are scared to attack our borders and Indian cities are safe because now India enters the den of terrorism and attacks them. But be it the Congress or other parties doing vote bank politics question our surgical strike," PM Modi said.
"Terrorism has not stopped. The politics of the Congress has also not changed, We have to keep Gujarat safe from the Congress and other such parties," PM Modi added.