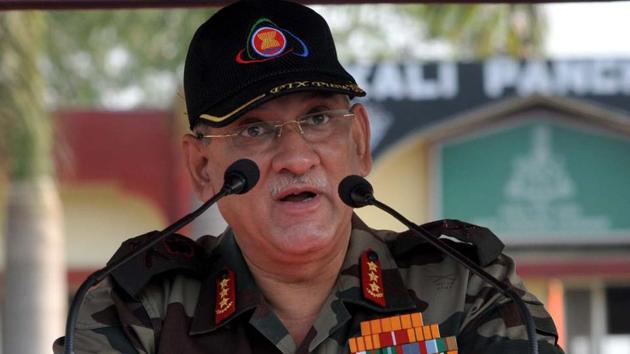 IAF chief Arup Raha says strengthen Gen Bipin Rawat's hand
Outgoing air force chief Arup Raha said on Wednesday the seniority principle governing the appointment of a service chief may have its "merits and demerits" but now that a decision has been taken, everyone must work to "strengthen army chief-designate Lieutenant General Bipin Rawat's hand."
UPDATED ON DEC 28, 2016 08:33 PM IST
Outgoing air chief Arup Raha on Wednesday said following the seniority principle in naming top military picks might have its "merits and demerits" but now that a decision had been taken, everyone must back army chief-designate lieutenant general Bipin Rawat.
The government superseded two generals while naming Rawat as general Dalbir Singh's successor, sparking a debate whether seniority or merit should determine top military appointments.
Asked to comment, the Indian Air Force chief said, "We have had selections based on merit or the consideration of the government. Seniority has been overruled in the past as well. I think we should go along with the decision, otherwise it will weaken the person who is going to be the next chief."
As chairman of the chiefs of staff committee, Raha is India's senior-most military commander.
In promoting Rawat, who takes over as army chief on December 31, the government ignored the claims of lieutenant generals Praveen Bakshi and PM Hariz.
The air chief marshal said different principles of selection – seniority, merit or the government's requirement – each had their advantages and disadvantages.
"So based on merits and demerits, there will be people who will speak for and against it… We have to strengthen Rawat's hand. He is a good soldier, a good officer and so is Bakshi. But, a decision has been made," he said.
In his last media briefing as the IAF chief, Raha said the 36 Rafale warplanes ordered from France were not enough and India needed at least 200 such fighter jets.
India and France signed the Rafale deal on September 23, 2016.
Raha, who retires December 31, also said the IAF's Russian-origin Ilyushin-78 tanker fleet was plagued by maintenance problems and more mid-air refuellers were a "strategic requirement."
Two global tenders for buying the refuellers have been scrapped since 2007. "Sadly, there have been some problem areas in the acquisition. A new tender will be out soon," the chief said.
Raha will be succeeded by Air Marshal BS Dhanoa.
No sympathy for Tyagi if found guilty
Arup Raha said former air chief SP Tyagi, an accused in the VVIP chopper scandal, was a member of the IAF family but there would be no sympathy for him if charges against him were found to be true.
The IAF chief said multiple agencies were involved in the acquisition process and "you can't pin the blame on one service".
Raha snubs China
The country needed the capability to strike deep into "the adversary's heartland" and take on targets that hurt him, IAF chief Arup Raha said on Wednesday, two days after India successfully tested nuclear-capable Agni-V missile.
China called for "strategic balance" in South Asia after the test. Agni-V has a range of 5,000km that covers China.
India, Raha said, should continue to expand its deterrent capability. It was well known what was going on in the region "in terms of collusion, transfer of technology which is forbidden", he said in a veiled dig at China providing nuclear know-how to Pakistan.
Close