In riot-hit Saharanpur, 30-year-old lawyer leads Dalit fight with his Bhim Army
Bhim Army Ekta Mission founder Chandrashekhar was an ABVP member as a law student; the Dalit group's members say BSP chief Mayawati paid only lip service after arson at Shabbirpur village; the activists claim their group has 40,000 members in seven states.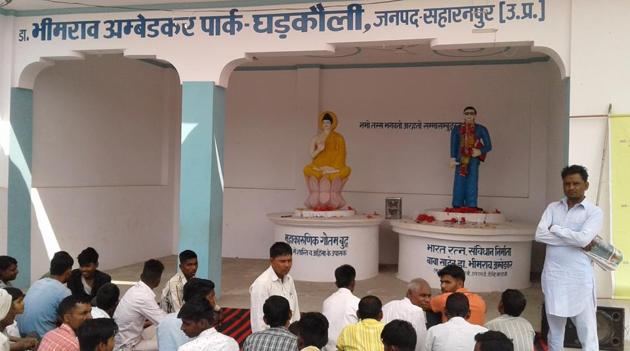 Updated on May 30, 2017 06:34 PM IST
A posse of policemen guarded a park in Saharanpur's Ghadkoli village where Dalits paid obeisance to Gautam Buddha and BR Ambedkar on Buddha Purnima on Wednesday. A few kilometres away in Chhutmalpur village, a group of Dalit youth called on Chandrashekhar, a 30-year-old lawyer and founder of Bhim Army Ekta Mission who is "fighting for the community", to chalk out further course of action in the community's ongoing protests against the "oppression".
Both the events have a connection. The Bhim Army Ekta Mission had led the Dalit protests in the communally sensitive Saharanpur district of western Uttar Pradesh. And the Buddha Purnima event was organised by Bhim Army at the park that saw skirmishes between Dalits and Thakurs in April last year after a provocative signboard in Hindi was installed next to it.
In the absence of any organised political voice to take up Dalit issues, the hitherto lesser-known Bhim Army, which claims to have 40,000 members in seven states, has emerged as a strong voice of the community in Saharanpur and adjoining districts.
After the arson at Shabbirpur village on May 5, allegedly by Thakurs, the members of the organisation were involved in clashes with the police on Tuesday after it was denied permission to hold a "mahapanchayat" in Saharanpur town. The meeting, they said, was aimed at seeking justice for the affected Dalit families. Chandrashekhar was injured in the protest.
"It is strange that Behanji (Mayawati) just paid lip service to the arson at Shabbirpur village where houses of 25 Dalits were torched by Thakurs. No one from the government visited the village and no compensation has been announced for the victims. It seems they (politicians) don't care about us at all," said Shyam Kumar, an activist of the Bhim Army.
Until recently, Saharanpur, with 26% Dalit and 41% Muslim population, used to be a traditional Bahujan Samajwadi Party (BSP) stronghold. But the party led by Mayawati lost four out of seven seats here in the 2017 assembly polls. Worse, its leaders including former member of Parliament (MP) Jagdish Rana and Dharam Singh Saini, switched to the Bharatiya Janata Party (BJP). Saini defeated Imran Masood of Congress from Nakur in 2017.
"After the planned attacks on Dalit houses and the death of one Thakur last week, it is common knowledge that it will spread to other areas. Emergence of new Dalit groups like Bhim Sena is due to absence of BSP on the ground and crossover of BSP leaders to BJP. The Thakurs are becoming assertive because of ministerial berth to west UP BJP leaders like Suresh Rana and his daily interference in local administration in the region," said political analyst Prof Sudhir Kumar.
The Bhim Army first shot to fame in August 2015 when it was involved in a commotion with the administration of a Rajput-run inter-college in Saharanpur where Dalit students complained of discrimination. The skirmish over the signboard in Ghadkoli a year later proved to be a turning point in which several members were arrested. The group staged a protest in Meerut last week when chief minister Yogi Adityanath was holding a meeting on law and order.
"Behanji (Mayawati) has no time for us. She doesn't come out of her Lucknow/Delhi comforts," said Main Lal, a member of the Bhim Army from Ghadkoli village.
Chandrashekhar, who has gone into hiding, said he formed the Sena (Army) in 2014 after he found that his father Govardhan Das, a headmaster, was frequently humiliated in meetings. He said the objective of his apolitical organisation "is not violence" but to give voice to the voiceless.
"We will raise our voices whenever Dalits are harassed," said Chandrashekar, who was an ABVP member as a law student.
The Army activities have not pleased many though. With regard to Tuesday's violence, Saharanpur district magistrate NP Singh said the Bhim Army had used social media to mobilise Dalits for the gathering, which was not allowed for security reasons. Two members of the Bhim Army, Sachin from Ghaziabad and Gautam from Saharanpur, were arrested in this connection, said Singh.
Local Thakur leader Virendra Rana, who joined the BJP from SP recently, said, "They are gundas who masquerade as Dalit activists."
Close Story