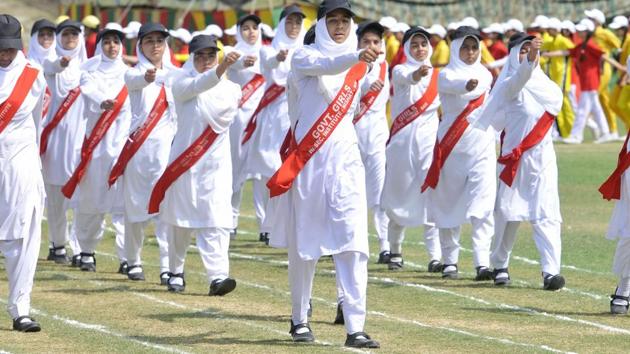 Modi's Independence Day speech: In Kashmir, PM's 'embrace' remark elicits some hope, lot of scepticism
Kashmiri leaders say local government must drop the 'bullets-and-name-calling' approach as suggested by the PM. Many locals, at home due to curfew, dismiss Modi's comments as 'jumla'
Hindustan Times, Srinagar | By Ashiq Hussain
, Srinagar
UPDATED ON AUG 15, 2017 05:33 PM IST
Kashmiri leaders saw cautious hope in Prime Minister Narendra Modi's outreach on Tuesday, saying the government must follow his idea of using compassion, not coercion, to bring peace to the restive region.
In the morning, Modi said the dispute in Kashmir can be resolved with hugs, not guns or name-calling during his speech from the ramparts of the Red Fort in Delhi.
Mirwaiz Umar Farooq, the leader of a moderate faction of the separatist Hurriyat group, welcomed the PM's comment. "Welcome @narendramodi also believes 'Goli&gaali will not help resolve Kashmir' if insaniyat &insaaf replace them Resolution can become a Reality," he tweeted.
Farooq later told Hindustan Times that the state has to relook its policy of "guns and abuses".
"That is what the state is doing right now. It has to relook this policy. They are pursuing these young Kashmiris and killing them," he said.
Chief minister Mehbooba Mufti welcomed the Prime Minister's remarks about Kashmir.
She said she has all along believed that talks and peaceful means only can help resolve issues.
The slogan "bandook say na goli say, baat banegi boli say (dialogue, not guns and bullets)" that her party coined about 15 years ago is as relevant today as it was then, she added.
Modi's comments seemed to allude to the local militancy led by young men from Kashmiri towns and villages. One such militant leader was Burhan Wani, whose death last year sent the region into a violent spiral that led to the deaths of least 100 civilians.
"Jobs and incentives are all right but what youth of Kashmir want is justice, and that should be the focus," Farooq said.
"Kashmir is not an economic, military or administrative problem. It is a political problem."
National Conference leader Omar Abdullah, the former CM of the state, had a similar view of the PM's remarks.
"PM Modi's words for Kashmir have been very well received by people here but everyone here is weary of yet more talk & no concrete action," he tweeted.
"The proof of the pudding is in the eating. We look forward to being embraced in the warm grip of understanding, acceptance & respect. That respect must include respect for the unique status J&K enjoys within the constitution of India that sets it apart from all other states," he said in subsequent tweets.
IN LOCKDOWN, KASHMIRIS UNAMUSED
The Kashmiri public was much less impressed with the PM's remarks. "On DD Kashmir, paid performers are singing and dancing awkwardly in front of CM who occasionally claps; phones have been disconnected; internet has been blocked yet again (might as well be renamed Inter-disconnect in Kashmir!); the streets are empty and silent except for the noise of army vehicles, and Modi, from the ramparts of the Red Fort in New Delhi, talks about loving and embracing Kashmir which sounds like some 'final solution' (sic)," a local journalist said wrote on Facebook.
Another social media user said the statement would have some weigh when "atrocities" on people would stop. "There is a curfew in whole valley and you are talking of love. What love? Forces are killing innocent people, ransack their property how could you think we love india or your army. Kashmiris hate Indian army (sic)," he wrote.
Some people said the Prime Minister was indulging in jumla bazi (word play) as the peace talk did not reflect in reality.
But human rights campaigner Khuram Parvez said Kashmiris must welcome Modi's "admission" that the people have been dealt with bullets and abuse. And that the Kashmir issue can be resolved by embracing Kashmiris, he added.
Close