'Some nations trying to seek more control in Indo-Pacific region': Navy chief
Navy chief Admiral Karambir Singh said day-to-day competition for "influence, leverage and geostrategic space" was increasingly being witnessed in the Indo-Pacific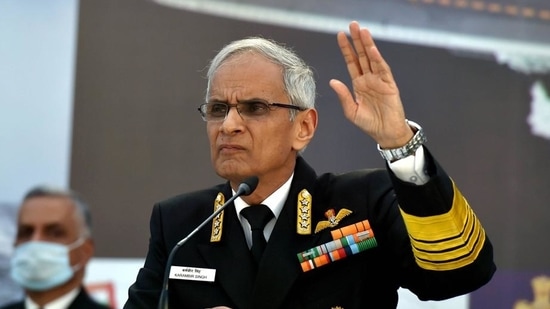 Updated on Oct 28, 2021 01:45 PM IST
Navy chief Admiral Karambir Singh on Wednesday said some countries were applying "land-centric territorial mindset" attempting to seek greater domination and control in the Indo-Pacific region, in a veiled reference to China's aggressive moves in the South China Sea where it has long-standing sovereignty disputes with several counties such as Vietnam, the Philippines, Malaysia, Brunei and Taiwan.
In his address at the Indo-Pacific Regional Dialogue 2021, Singh said the reinterpretation of accepted conventions was turning "the global commons into contested seas."
India is keeping tabs on Chinese moves in the South China Sea and taking steps to ensure that the People's Liberation Army Navy (PLAN) doesn't muscle its way into the Indian Ocean where combat-ready Indian warships are carrying out round-the-clock surveillance for any unusual activity, as previously reported.
"As the basic precepts of a maritime Indo-Pacific are challenged, competition in the Indo-Pacific is also becoming more diverse, involving levers of diplomacy, commerce, ideology, values, science and technology; apart from the military," the navy chief said, calling the region the centre-of-gravity of global geopolitics and economics.
He said day-to-day competition for "influence, leverage and geostrategic space" was increasingly being witnessed in the Indo-Pacific, which houses 61% of the global population, contributes to 62% of global gross domestic product (GDP) and encompasses 63% of the world's island nations.
Singh said nearly 50% of global trade passed through the Indo-Pacific, and most nations within and beyond the region, had a core interest in keeping it free for commerce. "Which is also why concepts such as like-minded partners, free and open seas, have gained greater currency, concurrent with the growing relevance of the idea of Indo-Pacific," he added.
China claims almost 90% of the South China Sea.
Meanwhile, defence minister Rajnath Singh in his keynote address at the Indo-Pacific Regional Dialogue 2021, said,"India is committed to respecting the rights of all nations as laid down in UNCLOS. We are fully determined to protect the legitimate rights and interests of our country in relation to our territorial waters and the exclusive economic zone."
Close Story