India gives 2 sea ambulances to Maldives, unveils aid for development projects
Jan 18, 2023 08:43 PM IST
The sea ambulances were acquired with Indian grant assistance of more than $400,000 for the Maldives' defence ministry as part of efforts to strengthen he healthcare delivery system
India handed over two sea ambulances to the Maldives on Wednesday even as the two sides signed three agreements for cooperation in infrastructure and education, with external affairs minister S Jaishankar saying the countries are responsible for ensuring peace and security in the region.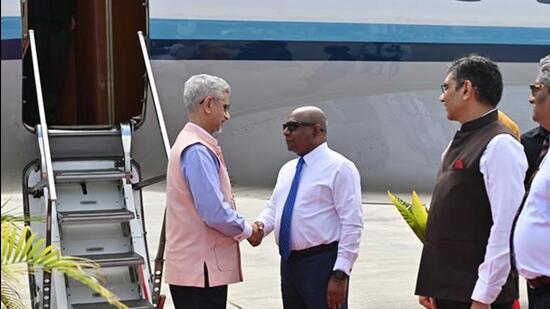 The sea ambulances, or special boats for transporting patients between islands in emergency situations, were acquired with Indian grant assistance of more than $400,000 for the Maldives' defence ministry as part of efforts to strengthen he healthcare delivery system. The Indian Ocean archipelago has been one of the main beneficiaries of India's "Neighbourhood First" policy.
"We are good neighbours, we are strong partners, we are mutually invested in develop and progress but we also together have a responsibility for peace and security in the region," Jaishankar said at a media interaction with his Maldivian counterpart Abdulla Shahid in Manadhoo island.
Also Read:Maldives: Eight Indians killed in garage blaze
"Our security partnership also continues to strengthen. India is always willing to meet the requirements and needs of the Maldives, both for itself and for the larger region," he added.
Shahid referred to aid provided by India amid the Covid-19 pandemic, including a grant of 200,000 vaccine doses and undisrupted supply of essential commodities, and said these actions proved the Maldives "can always rely on India". He described bilateral relations as "inextricable" and said the Maldives is committed to enhancing ties and cooperation under its "India First" policy.
He added that the two sides are implementing defence projects under an Indian line of credit of $50 million.
The three memorandums of understanding (MoUs) finalised by the two sides cover the second phase of Indian grant assistance for high impact community projects worth 100 million Maldives Rufiyaa, the development of a sports complex, and academic cooperation between Maldives National University and Cochin University of Science and Technology.
Jaishankar emphasised that India-backed projects adhere to the basic tenets of transparency, full participation and ownership of the host country and competitive pricing. Though he didn't name any other country, the remarks were perceived as a reference to Chinese projects that have resulted in several countries in the region facing pressure in terms of external debt.
"The partnership with India has made a real difference to the lives of people. My visit was an opportunity to see tangible results," Jaishankar said in a tweet.