India highly vulnerable to climate change impacts, say experts on UN report
Countries must make 'unprecedented' transition across sectors to avoid climate change's impact, the IPCC report said.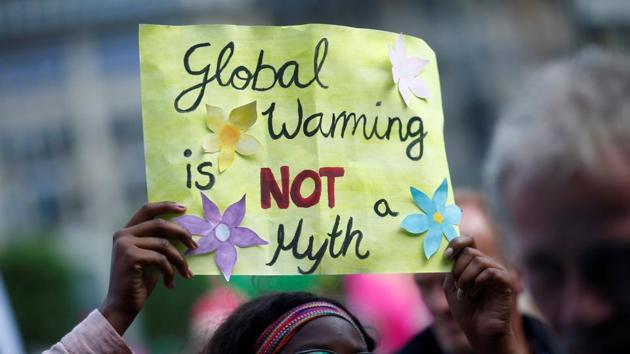 Updated on Oct 09, 2018 07:06 AM IST
Hindustan Times, New Delhi |
Jayashree Nandi
Countries have to make unprecedented transitions in all sectors to avoid devastating consequences of climate change and keep global warming within 1.5 degrees Celsius above pre-industrial levels this century, says a report by Intergovernmental Panel on Climate Change (IPCC), an international body set up in 1988.
Commitments to cutting down carbon dioxide (CO2) emissions, submitted by 195 nations under the Paris agreement, will fail to keep the rise in global temperatures under 1.5°C of pre-industrial age levels, says the report released in South Korea's Incheon on Monday.
If that happens, India may face serious consequences, including severe heat-stress in big cities and high air pollution levels, saltwater intrusion in coastal areas triggered by rise in sea levels and increased vulnerability to disasters in high mountain ecosystems, according to experts. But even a 1.5°C rise in temperature will be threatening to India.
In December 2015, as many as 195 countries reached an agreement in Paris to combat climate change and accelerate and intensify actions and investments needed for a sustainable low-carbon future.
IPCC's special report titled 'Global Warming of 1.5 Degrees' finds that nations will require "rapid and far-reaching" transitions in all sectors, particularly energy, land use, industry, transport, buildings and other infrastructure to fight climate change.
Developing nations and least developed countries have been asking developed nations, particularly the US, to take historical and moral responsibility for being one of the largest greenhouse gas emitters. Smaller nations have asked for equity in CO2 emission cuts to curb global warming, a time frame and funding from developed nations for climate change mitigation. The US has been resisting large cuts in CO2 emissions. In 2017, the Donald Trump administration said it will withdraw from the Paris agreement but it cannot do that before 2020 according to the terms of the agreement.
An author of the recent report, who spoke on condition of anonymity, says the US red-flagged several findings of the scientific summary for policymakers, but finally all nations endorsed it.
Global net human-caused CO2 emissions would need to fall by about 45% from 2010 levels by 2030, reaching 'net zero' around 2050, says the report. "This means that any remaining emissions would need to be balanced by removing CO2 from the air," it says. But IPCC also adds that the effectiveness of CO2-capturing technologies is still unproven on a large-scale.
The report, drafted by 91 authors from 40 countries, finds that even if Intended Nationally Determined Contributions (INDCs), or commitments made by nations under the Paris agreement, are "supplemented by very challenging increases in the scale and ambition of emissions reductions after 2030," it may not be enough to stop more than 1.5°C rise in temperatures.
"Limiting warming to 1.5ºC is possible within the laws of chemistry and physics but doing so would require unprecedented changes," says Jim Skea, co-chair of IPCC Working Group III, which worked on the report.
M Rajeevan, secretary, ministry of earth sciences (MoES), says, "It's a difficult target that requires all countries to come on board and make unprecedented changes but it's not impossible."
The consequences of a 1.5°C rise include extreme temperatures in many regions across the world, increases in frequency, intensity and/or amount of heavy precipitation, and an increase in intensity or frequency of droughts in some regions. With a 2°C rise, the impacts can be too serious for communities to adapt.
For example, according to IPCC, by 2100 global sea level rise would be 10 cm lower in case of a 1.5°C rise compared with a 2°C rise. The likelihood of an Arctic Ocean free of sea ice in summer would be once per century with global warming of 1.5°C, compared with at least once per decade with 2°C. Global warming of 1.5°C may force many marine species to relocate to higher altitudes and deal a blow to many ecosystems. "It is also expected to drive the loss of coastal resources, and reduce the productivity of aquaculture," the report says.
India's Vulnerability
The IPCC report doesn't list country-wise impacts. But several studies conclude that India is vulnerable to climate change impacts.
Joyashree Roy, a professor of economics at Jadavpur University and a co-author of the IPCC report, says: "We have found that the burden of global warming will fall disproportionately on the poor who are not responsible for the problem if we don't meet (the) 1.5 degrees target. The most-affected areas in India will be mega cities, coastal areas, high-mountain and small-island regions. There will also be heat stress in cities and air quality will deteriorate due to high fossil fuel use."
NH Ravindranath, of the Indian Institute of Science (IISc), who has been an IPCC author and specialises in forestry, says, "Climate change is already impacting natural ecosystems and socio-economic systems even at current level of warming of 1°C."
He adds that "the impacts of climatic change hazards (like droughts, floods, etc.) will depend on the exposure (population in coastal zones, drought- and flood-prone areas and mountain slopes). Since India has a very large population and regions subjected to droughts, floods, and sea level rise, it is one of the most-vulnerable countries."
Rajeevan says India is already experiencing extreme weather events; the unprecedented rains that triggered this year's Kerala floods being an example.
Chandra Bhushan, the deputy director general of Centre for Science and Environment (CSE), says, "Though it will be very difficult in the current global economic system to limit warming to 1.5°C, it is not impossible. This will require acting on all fronts to rapidly reduce emissions by 2030. Without an active participation of the US, this will be impossible. In totality, how the rest of the world handles the climate rogue behaviour of the Trump administration will decide whether the world meets the 1.5°C goal or not."
Asked about reports of the US stand on the crucial report, AK Mehta, an additional secretary at the environment ministry, says, "India recognises climate change to be a real threat and we will do whatever we can in our own capacity. Denying the reality of climate change is not going to help anyone. "
One of the authors of the report quoted earlier, who did not wish to be named, said, "The US had issues with the conclusions, but finally the report were endorsed by all nations. The report would not have been released without consensus of all."
Close Story