India seeks leniency in US sanctions on Iran, cities oil imports, Chabahar port venture
The US is re-imposing sanctions on Iran after the Trump administration decided to walk out of the Iran nuclear deal of 2015.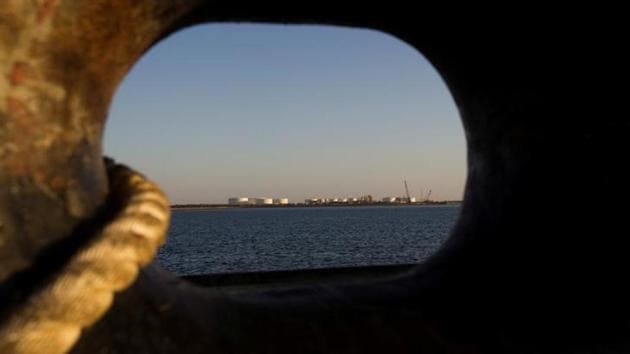 Updated on Jul 18, 2018 07:10 AM IST
India has made a strong pitch to the US for leniency in complying with sanctions on Iran, citing their likely impact on its oil imports and investment in the Chabahar port. The US signalled that it would consider sanction waivers for countries that would need more time to slash oil purchases from Iran, in an apparent attempt to avoid disrupting international oil markets, two persons familiar with the development said.
A US delegation led by Marshall Billingslea, US assistant secretary for Terrorist Financing in the Department of the Treasury met officials of the ministries of external affairs, home and finance on Monday to discuss various issues related to the sanctions on Iran as well as the United Nations proscribing terrorist individuals and entities, one of the persons cited above said on condition of anonymity.
The US delegation held the discussions in New Delhi a day after Iran's deputy foreign minister Seyed Abbas Araghchi, one of the main negotiators of the Iran nuclear deal that the US has walked out of, was in New Delhi for consultations with foreign secretary Vijay Gokhale.
"New Delhi has been apprised of the US thinking on the sanctions on Iran. Indian side conveyed to the US delegation certain facts on the ground. Iran is an important partner of India's oil imports along with Saudi Arabia and Iraq. Any immediate disruption in oil supply can have implications for India both in terms of crude availability and the international crude price fluctuating. At the same time the US is also an important partner for India with which India worked on similar issues in the past," said the second person, requesting anonymity.
The first person said India should take heart from a statement by US treasury secretary Steven Mnuchin wherein he talked about making exceptions of the countries that import Iranian crude.
"We want people to reduce oil purchases to zero, but in certain cases, if people can't do that overnight, we'll consider exceptions," Mnuchin said on Friday, clarifying some US officials' comments that there would be no exemptions. Mnuchin's comments were embargoed for release on Monday, perhaps to coincide with the visit of the US delegation to Delhi.
But bringing India on board on the sanctions is important for the US. Iran's total oil export amounts to roughly 2.2 million barrels a day, of which half is bought by China and India. The US is re-imposing sanctions on Iran after the Trump administration decided to walk out of the Iran nuclear deal of 2015.
India is also hopeful that the US would see its investment in Chabahar from a geopolitical perspective of giving sea access to land-locked Afghanistan, which would lessen Kabul's dependence on Pakistan, to consider it as a special case. Ports and shipping also come under US sanctions.
Ahead of Monday's talks, India held discussions with Germany, France and European Commission, seeking their views on US sanctions.
"It would be very difficult, if not impossible to stand up to the US sanctions. Export linkages, between Europe and the US, are much more than that between India and the US. So the banking sanctions, and the secondary sanctions, can hit European countries hard", said a Western diplomat who didn't wish to be named.
Trump withdrew from the 2015 Iran nuclear deal against the advice of allies in Europe as well.
"India has always taken a pragmatic approach when it came to such sanctions even in the past. The private-sector refineries will cut the imports because, they too will be very wary of the US sanctions affecting them elsewhere", said Lalit Mansingh former Indian envoy to the US.
"Given the pre-eminence of US in international trade and banking, defying the US treasury sanctions cannot be a feasible idea. So the option is work with them to protect the Indian interests such as ensuring no major fluctuation in internal oil price", he said.
Lalit Mansingh said India would not have any problem in replacing supply from Iran with shipments from other countries as such Saudi Arabia, Russia and the like.
Close Story