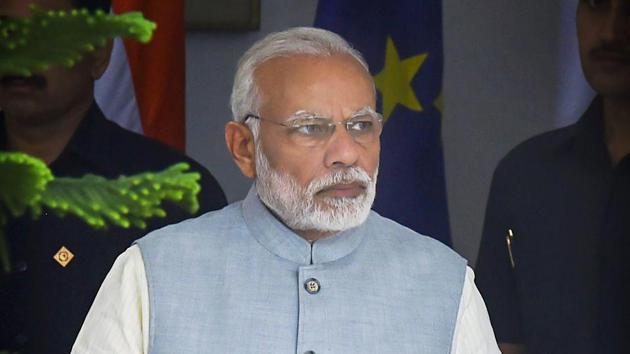 India working on strategy to make another bid for NSG membership
Being a member of the NSG would be shot in the arm for the Narendra Modi government and a major policy achievement ahead of the next general elections in 2019.
UPDATED ON MAY 28, 2018 09:33 AM IST
New Delhi
India is mounting another strong bid for admission to the Nuclear Suppliers Group (NSG), an elite club of 48 countries that deal with fissile materials and nuclear technology, which is set to meet in June and December this year, three persons familiar with the hectic diplomatic activities on the matter said on condition of anonymity.
The NSG is the only major export control regime India is not part of after its entry into the Australia Group (January 2018), the Missile Technology Control Regime (June, 2016) and the Wassenaar Arrangement (December 2017).
Being a member of the NSG would be shot in the arm for the Narendra Modi government and a major policy achievement ahead of the next general elections in 2019.
The issue of India's entry came up for discussion at the Seoul plenary of the NSG last June, but Beijing did not agree on the grounds that India was not a signatory to the non-proliferation treaty (NPT). Though other countries also raised objections to Indian membership, India said "one country" consistently raised procedural hurdles, in an oblique reference to China. Beijing backed a two-step approach which stipulates that the NSG members first need to arrive at a set of principles for the admission of non-NPT states into the NSG and then move forward with the discussions on specific cases.
Officials said that fresh talks between Indian and Chinese officials on the issue were "forward looking". Former foreign secretary Lalit Mansingh suggested China had blocked India's entry primarily on account of the strain in bilateral ties. "There is a perceptible change in the bilateral ties after Modi meeting President Xi Jinping in Wuhan on April 27 and 28. So if China withdraws its objection, India could be a member of NSG," he said.
The road to the NSG membership is paved with uncertainties since the group works on the principle of consensus and even one country holding out could block the chances of entry.
Keeping this in mind, India is working on a three-prong strategy, another officials said.
One, India is telling its close friends in the club to work with others to get India admitted. Two, India is trying to dispel the notion that countries such as Brazil, Argentina, Kazakhstan, and South Africa -- which once gave up their nuclear programme -- could cite any procedural issues to not admit India. Three, India is stressing that the process of admission is "merit-based" and not "criteria -based", as advocated by China and supported in the past by Austria, New Zealand and Mexico.
"We have been in touch with our friends and partners for our NSG bid. We are not a member of the group. But we hope to the there soon, as we hope the grouping factors in our track record in non-proliferation and a clean waiver that the NSG had given us in 2008", said an official who asked not to be named.
The merit-based approach means India's non-proliferation track record should be factored in. The criteria-based approach means the grouping must first decide how to accommodate non-NPT (Non-Proliferation Treaty) countries as members. India is a not a signatory to the NPT and maintains the pact is discriminatory in nature.
India has been urging the US and Russia to work with other countries to help its membership. The Netherlands, too, agreed to work with other NSG members for India's membership during the between Prime Minister Modi and his Dutch counterpart Mark Rutte on May 24."In order to further strengthen global non-proliferation, the Netherlands reaffirmed its strong support to building consensus among the regimes' members on the issue of India's membership to the Nuclear Suppliers Group; recognizing that India's accession will add value to the aims and objectives of these regimes," read the joint statement issued after the meeting.
This was a step forward from the last year's India-Netherlands joint statement, which had simply said: "The Netherlands expressed its support for India's early membership to the Nuclear Suppliers Group."
Switzerland, the chair of the NSG for 2017-18 with Ambassador Benno Laggner as its representative, also supports India's membership.
In additional, there have been visits to some NSG countries by Indian ministers in recent weeks. Minister of state for external affairs MJ Akbar met Austrian Federal Minister for Europe, Integration and Foreign Affairs Karin Kneissl in Vienna on May 15. The other minister of state in the ministry, VK Singh, was in Argentina, another NSG country, to attend G20 meet on May 18-19 and India hosted the foreign minister of Serbia on May 1.
"Though there could be some others with reservations on India's entry. But none of them could be seen as the last one standing in the way," added a second official on condition of anonymity. A diplomat, who also asked not to be identified, said India was "in touch with Mexico and Brazil, while South Africa has twice reiterated its support for India's membership".
Close