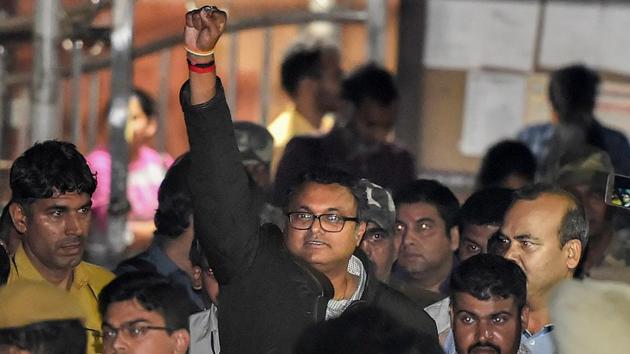 INX Media case: CBI gets 5-day custody of Karti Chidambaram, no home food allowed
Karti Chidambaram, who was arrested on Wednesday at Chennai airport, tells the media outside the Delhi court: 'I will be vindicated eventually.'
UPDATED ON MAR 06, 2018 01:23 PM IST
A day after being arrested by the Central Bureau of Investigation (CBI) in a case of suspected corruption that the Congress party has called an instance of political vendetta, Karti Chidambaram, son of former Finance Minister P Chidambaram, was remanded to police custody for five days by a special CBI court on Thursday.
The junior Chidambaram, 46, was sent to custody until March 6 by the special court after the investigating agency sought 14 days more to question him, saying he hadn't cooperated in its probe.
The CBI has alleged that in 2007, broadcaster INX Media, then owned by Indrani and Peter Mukerjea, received ₹305 crore from offshore entities by way of foreign direct investment without approval from the Foreign Investment Promotion Board, which has since been disbanded. The allegation is that Karti Chidambaram helped scuttle punitive action against INX Media by the finance ministry by using the influence of his father, who was then the finance minister.
Represented by Additional Solicitor General Tushar Mehta, the CBI on Thursday told special CBI judge Sunil Rana that Karti Chidambaram had been "evasive" and had not answered even a single question when the CBI summoned him last year in connection with the case.
Appearing for Karti Chidambaram, senior advocate and Congress leader Abhishek Manu Singhvi on Wednesday challenged his client's arrest. The court granted the CBI a day's custody following which he was produced on Thursday, when Singhvi continued his arguments challenging the arrest. The lawyer told the court that the reasons cited for Karti's arrest were "bizarre".
The CBI cited the grounds on which Karti Chidambaram was taken into custody. It told the court that he needed to be questioned in custody and confronted with other suspects and evidence in the form of invoices, hard disks and mobile phones collected by the investigators.
"We have emails and invoices indicating money was given to Advantage Strategic Consultancy Private Limited (ASCPL), which is related to Karti, around the time period when INX Media received favours. There is substantial evidence with the agency which needs to be confronted with Karti. Three mobile phones have been recovered from him which need to be examined. 14 days is the minimum time required to keep him in custody," Mehta said.
Mehta told the court that Karti Chidambaram's arrest was based on multiple reasons that included his not cooperating with CBI, frequently travelling abroad, concerns that evidence in the case will be tampered with and a confessional statement by Indrani Mukherjea in which she claimed Karti had demanded one million dollars for facilitating the overseas investments by using his influence.
Indran Mukherjea, claimed Mehta, had met Karti along with her husband Peter. The couple are currently in jail for the murder of Indrani's daughter Sheena Bora.
CBI also questioned Karti's motives behind travelling abroad, at one point remarking, "Ask them what he was doing abroad." Singhvi told the judge that the prosecution was using "innuendos" based on "prejudiced documents"
Singhvi argued that Karti Chidambaram had no intention of fleeing the country, noting that he had returned from a visit to London when he was arrested. Singhvi argued that CBI had nothing left to ask his client and had even stopped summoning him six months ago. He also questioned CBI's argument that the evidence could be tampered, saying the agency had not produced any evidence to corroborate the claim.
"There is not an iota of evidence against Karti. He is being arrested despite complying with court orders repeatedly," Singhvi said, adding that if Karti Chidambaram had done something illegal while abroad, the CBI should have filed a contempt petition before the court, which had allowed him to travel overseas.
The Congress has alleged that Karti Chidambaram's arrest was a case of political vendetta. The ruling Bharatiya Janata Party has insisted that the law is taking its course.
Close