Israeli PM Netanyahu to be in India for three-day visit from Jan 14
Updated on Nov 18, 2017 10:21 AM IST
Israeli Prime Minister Benjamin Netanyahu is scheduled to arrive in India for a three-day visit on January 14 as the two countries work towards a free trade agreement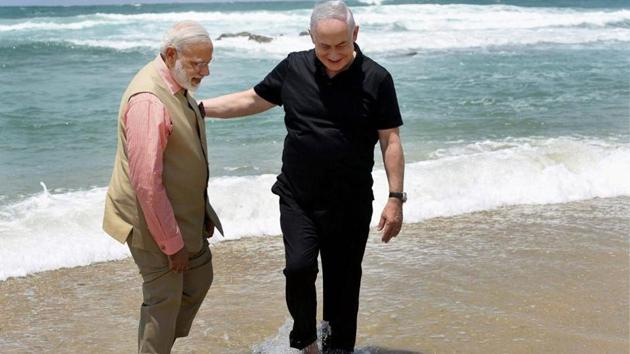 Hindustan Times, New Delhi |
Jayanth Jacob
Israeli Prime Minister Benjamin Netanyahu is scheduled to arrive in India for a three-day visit on January 14 as the two countries work towards a free trade agreement.
The two countries are also working on a proposal for the Heron TP, medium-altitude, long-endurance, unmanned aerial vehicle (UAV) developed by Israel Aerospace Industries (IAI) to meet multiple mission needs of the Indian armed forces.
Upon his arrival, Netanyahu will be received by Prime Minister Narendra Modi in Ahmedabad, like he did China's Xi Jinping and Japan's Shinzo Abe.
Netanyahu will be in India till January 16, 2018 and from Gujarat he will travel to New Delhi. Agra is another proposed stopover for Netanyahu, the second Israeli Prime Minister to
visit India after Ariel Sharon in 2003.
Indian officials preparing for the Israeli Prime Minister's visit said the two countries will likely focus on innovation, agriculture, water management and agriculture, apart from trade.
The bilateral trade between the countries, excluding defence is around $5 billion.
"The trade is below potential between the two sides. Both have identified promoting business ties and investments as a key focus", said one of the officials on the condition of anonymity.
The Heron TP systems include maritime patrol radar, electronic support measures, electronic and communications intelligence and can also be installed with M-19HD multi-sensor electro-optical
payload.
The real-time imagery and telemetry data collected by the payloads are transmitted to the ground control station using line-of-sight propagation and satellite communications (SATCOM).
The UAV allows for simultaneous operation of different payloads for multi-mission requirements. "We are working on this proposal", said an official. India officially recognised Israel on September 17, 1950 but the two sides started full diplomatic ties in 1992 under the Congress-government led by PV Narasimha Rao.
Close Story
Personalise your news feed. Follow trending topics