J-K govt shuts down English daily to maintain 'public tranquillity'
The Jammu and Kashmir government on Sunday ordered closure of a prominent English newspaper — Kashmir Reader — citing "public tranquillity" as the reason.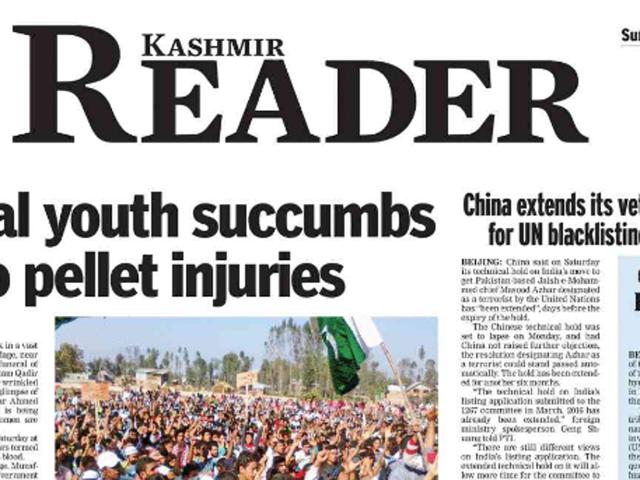 Published on Oct 02, 2016 10:48 PM IST
Hindustan Times |
, Srinagar
Ashiq Hussain
The Jammu and Kashmir government on Sunday ordered closure of a prominent English newspaper — Kashmir Reader — to maintain "public tranquillity" in the Valley.
The decision shocked Kashmiri journalists, who said this is the first time in the three decades of conflict that the government had banned a newspaper.
The Srinagar deputy commissioner served a notice to the newspaper asking its printer, publisher and owner to abstain from printing till further orders so that "disturbance of public tranquillity is prevented".
The DC said the newspaper was publishing material that "tends to incite acts of violence and disturb public peace and tranquillity". The paper has been warned that it would forfeit its printing press and other properties if the order was not followed.
Kashmir Reader office-bearers said the notice was served to them by police officers at its Batamaloo office in Srinagar on Sunday.
The paper's editor, Hilal Mir, said the newspaper was reporting the situation in Kashmir as it was. "We fail to understand how we incite violence when we have been reporting like any other media organisation except that we have tried to be more extensive in our reportage," Mir said.
"We are not inventing the situation and are only reporting what is happening on the ground. If things get better in the Valley, we will obviously report that as well," he added.
Kashmir has been on the boil for the past 86 days, since the killing of Hizbul Mujahideen militant Burhan Wani in an encounter on July 8, and the ongoing protests have claimed 88 lives.
The Kashmir Reader had published many stories on the alleged atrocities of the security forces during the unrest. It also became very popular online for its extensive coverage of the victims of the violence.
The news of the order was shared by the paper on its Facebook page, drawing condemnation from several quarters.
"The mountain of Shame," wrote journalist Mir Liyaqat.
"This only goes on to expose the hypocrisy and limits of facade of democracy they deploy to hide war crimes," said Dibyesh Anand, professor of international relations at University of Westminster.
Senior Kashmiri journalists also expressed surprise over the government's decision.
"We have had an armed conflict in Jammu and Kashmir for nearly three decades. During this period, parties to the conflict often tried to gag the media, so much so that a number of journalists had to pay with their lives for upholding freedom of the press. But this is for the first time in these three decades that the government has ordered closure of a newspaper like this," said former BBC correspondent Altaf Hussain.
Read | Ex-sarpanch shot dead; sporadic protests on Day 86 of Kashmir unrest
Close Story