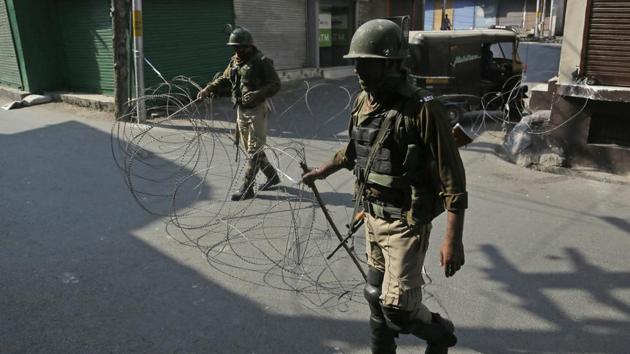 70 years of Jammu and Kashmir's accession to India: Here's what happened this day in 1947
Separatist leaders Syed Ali Shah Geelani, Mirwaiz Umer Farooq and Yasin Malik have asked people to observe Kashmir's Accession Day as a "black day".
UPDATED ON OCT 27, 2017 05:26 PM IST
Restrictions were imposed in various parts of Jammu and Kashmir on Friday to prevent protests called to mark 70 years of the accession of the state to India.
Separatist leaders Syed Ali Shah Geelani, Mirwaiz Umer Farooq and Yasin Malik have asked people to observe Kashmir's Accession Day as a "black day".
It was on this day in 1947 that the Indian Army landed in Srinagar. Here is the story behind Jammu and Kashmir's accession to India:
When India attained Independence in August 1947, rulers of princely states had to decide whether to join India or Pakistan.
According to a BBC article by Victoria Schofield -- author of Kashmir in Conflict -- Jammu and Kashmir ruler Maharaja Hari Singh could not decide which country to join. "He was Hindu, his population was predominantly Muslim. He therefore did nothing," Schofield writes.
A study published on Standford.edu says that on October 22, 1947, "an impatient Pakistan invaded Kashmir from the north with an army of soldiers and tribesmen armed with modern weapons... Kashmir, without an army, was under serious threat."
"The intention of Pakistan had been to instill fear into the Kashmiris so they would surrender quickly."
Concerned over the violence, Maharaja Hari Singh requested armed assistance from India.
"The then Governor-General, Lord Mountbatten, believed the developing situation would be less explosive if the state were to accede to India..." writes Schofield.
The Jammu and Kashmir ruler sent his representative, Sheikh Abdullah, to Delhi to ask for India's help and later signed the 'Instrument of Accession of Jammu and Kashmir State'.
According to the terms of the document, the Indian jurisdiction would extend to external affairs, communications and defence.
"I hereby declare that I accede to the Dominion of India with the intent that the Governor General of India, the Dominion Legislature, the Federal Court and any other Dominion authority established for the purposes of the Dominion shall by virtue of this my Instrument of Accession but subject always to the terms thereof, and for the purposes only of the Dominion, exercise in relation to the State of Jammu & Kashmir (hereinafter referred to as "this State") such functions as may be vested in them by or under the Government of India Act, 1935, as in force in the Dominion of India, on the 15th day of August 1947, (which Act as so in force is hereafter referred to as "the Act')," the accession document read.
After the document was signed, Indian troops were airlifted into Jammu and Kashmir and fought alongside the Kashmiris.
Abdullah, once considered close to Jawaharlal Nehru, was made prime minister of a largely autonomous Kashmir.
The BBC report, however, says there is confusion over when the document was signed. "Official Indian accounts state that in the early hours of the morning of 26 October, Hari Singh fled from Srinagar, arriving in Jammu later in the day, where he was met by VP Menon, representative of Prime Minister Jawaharlal Nehru, and signed the Instrument of Accession."
However, it says research showed Hari Singh did not reach Jammu until the evening of October 26. Menon, the report, says was unable to reach Jammu until early October 27 due to bad weather.
The report quotes Indian source as saying that "Hari Singh signed an Instrument of Accession before he left Srinagar but that it was not made public until later."
Close