Kansas hero Ian Grillot bats for equality, wants to visit India in 'near future' | HT Exclusive
Mar 15, 2017 09:16 AM IST
A week after he became known round the world when he tried to intervene as a US Navy veteran opened fire at two Indian engineers at a Kansas bar, fame sits lightly on the shoulders of Ian Grillot.
A week after he became known round the world when he tried to intervene as a US Navy veteran opened fire at two Indian engineers at a Kansas bar, fame sits lightly on the shoulders of Ian Grillot.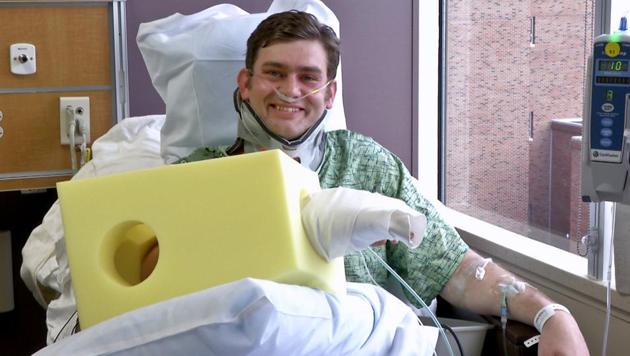 Recovering from serious injuries caused by a bullet that pierced his hand and lodged in his chest, the 24-year-old says what he did at Austins Bar & Grill in Olathe last Wednesday was what he'd have expected anyone to do.
"Nobody deserves to be treated in that manner, my folks raised me (in such a way) that everybody is an equal…Everybody's a human, let's treat everybody as that. So I mean it was just, I felt I had no choice. I would just hope that somebody would do that for me," Grillot told Hindustan Times on Tuesday in his first interview since the shooting.
Srinivas Kuchibhotla, 32, an employee of GPS-maker Garmin, was killed when Adam Purinton opened fire after shouting "get out of my country". His colleague, Alok Madasani, 32, was also injured.
Grillot waited till he thought the shooter had run out of bullets and then tried to tackle him. But Purinton had one bullet in his gun that he fired at Grillot.
"Well I was definitely a little shocked as I thought it (the gun) was empty…I really didn't know if I was going to make it. There was a scary situation but just the thought that I may have been able to help in some manner - they deserved justice for what happened and that's why I went after (Purinton) because it was not right what he did," he said.
Reports have suggested that Purinton had a problem with alcohol and was concerned about his health. He described the two Indians he attacked as people from the "Middle East" and "Iranians".
But Grillot insists there was no reason for the attack.
"I understand he (Purinton) may have been going through a lot of personal things in his life but that does not give somebody the excuse to act in the manner that he did," he said in a hoarse voice as the bullet affected a branch of the nerve that serves the vocal chords.
Grillot said he had run into Kuchibhotla and Madasani in the past and often exchanged pleasantries with them as he was a "people person".
"I had said 'hey' to them pretty much every time I'd been there and they were there. They normally came by once a week…They'd make me laugh, I'd make them laugh and go on our own ways," he said.
"I knew a few (Indians) that I grew up with in high school…I don't ever like to really look at it as an Indian or a Mexican or a white person or an Asian, whatever," he added.
"We're all human, we're all people. That's how it should be viewed, it shouldn't be viewed as races or ethnicities. We're all humans, that's my biggest thing in life. I don't judge, there's no reason for it."
While Grillot has been hailed as a hero, President Donald Trump's silence on the shooting has been noted in both India and the US. But Grillot said he preferred to steer clear of politics.
"I try to stay away from politics because no matter what's said, it's always gonna be the same answer, the same feedback," he said. "The political scene and all that stuff, it's going to be there when I'm long gone."
Grillot said he was more grateful that he had been "able to give people hope – something that's been missing for so long".
"The amount of hope, that's what's always gonna be there and that's what's I'm grateful for," he said, adding he had received hundreds of messages of support and made a "couple million" of Indian friends.
"The amount of feedback I've been getting from people and it's very overwhelming and touching. It brings tears to my eyes (from) the kind words that these people are saying to me," he said.
Besides hanging out with Madasani and share a "cold beer or two" after he recovers, Grillot also plans to visit India, a country that has long interested him.
"It's the one place I always found very interesting growing up as a kid – the heritage and the culture. I've always wanted to take a journey there. I think I've found myself a good reason to go there now. So I'd definitely have to be making a trip there sometime in the near future," he said.
"Exciting news! Hindustan Times is now on WhatsApp Channels
Subscribe today by clicking the link and stay updated with the latest news!"
Click here!
Get
Latest India News
along with
Latest News
and
Top Headlines
from India and around the world