Andhra engineer killed by US navy veteran is first Indian hate crime victim in Trump era
Hindustan Times, Washington |
Yashwant Raj
Aug 20, 2019 10:19 AM IST
Srinivas Kuchibhotla is possibly the first casualty of the religious, racial and ethnic divisiveness that has swept across the United States following the election of Donald Trump as president.
An Indian-American IT engineer employed by a US company was fatally shot and his Indian colleague wounded by a white man who thought they were Middle Easterners and who was heard telling them to "get out of my country" at the time of the shooting.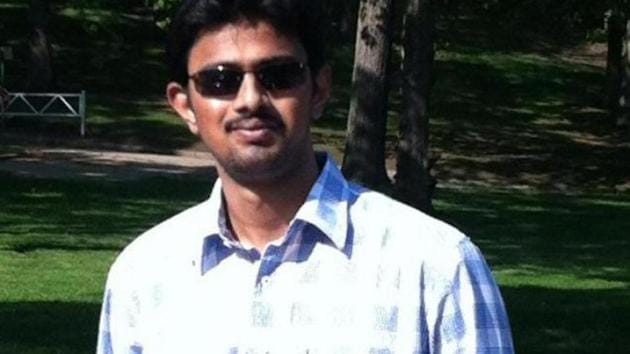 The alleged shooter Adam Purinton, 51, a US Navy veteran, was charged on Thursday with the fatal shooting of Srinivas Kuchibhotla, the IT engineer from Hyderabad, and wounding Alok Madasani, also from same city.
Kuchibhotla, 32, died in hospital, while Madasani, 32, was released from hospital on Thursday.
The circumstances of Purinton's capture were an eerie repeat of the killing of Balbir Singh Sandhu, the first victim of the backlash after the 9/11 terror attacks who too was mistaken for a Middle Easterner. Like Sandhu's killer, Purinton was caught drinking at a bar several hours later.
Purinton was also charged with shooting Ian Grillot, a white man who, according to witnesses, had tried to stop the shooting.
Kuchibhotla is possibly the first casualty of the religious, racial and ethnic divisiveness that has swept the US following the election of President Donald Trump, with minorities such as Jews and Muslims reporting a surge in attacks on them and their institutions.
Trump and his senior staff have railed against "radical Islam", a loosely defined term used for Muslim terrorists, and have turned up the rhetoric in the context of the administration's attempt, blocked by courts, to temporarily ban visa-holders from seven Muslim-majority countries from entering the US.
Wednesday's shooting at Olathe city received little media attention outside of Kansas state, even after authorities charged Purinton for the incident.
There was no response from the local FBI bureau and police to emails requesting confirmation and details, but GPS-maker Garmin, which employed Kuchibhotla and Madasani, referred to the assault in an internal email to employees that was cited by Kansas City Star, a local daily.
"Unfortunately, two associates on our aviation systems engineering team, Srinivas Kuchibhotla and Alok Madasani, were shot. We are devastated to inform you that Srinivas passed away and Alok is currently recovering in the hospital," it said.
Garmin also said in a public statement that was cited by the publication, "We're saddened that two Garmin associates were involved in last night's incident, and we express our condolences to the family and friends of our co-workers involved. Garmin will have grievance counselors on-site and available for its associates today and tomorrow."
In a post on LinkedIn, Kuchibotla described himself as "an Aviation Programs Engineer Manager at Garmin International, I manage helicopter OEM programs from both technical and project management standpoint".
He had earned a masters in electrical and electronics engineering from the University of Texas at El Paso during 2005-07, after coming to the US. His LinkedIn resume says he got his bachelors from Jawaharlal Nehru Technological University in Hyderabad in 2005.
Madasani too was with Garmin's aviation program. He studied at the University of Missouri-Kansas City and at Vasavi College of Engineering in Hyderabad.
Police of Olathe city said in a statement that a police officer we dispatched to a local bar at 7:15 pm on Wednesday (5:45 am in India on Thursday) in response to reports of gunfire. The police statement added officers found three victims with bullet wounds.
The alleged shooter was found drinking at a nearby bar around five hours after, alerted by a staff member. The Kansas City Star reported, citing witnesses, that he had been drinking before the shooting in Austins Bar & Grill: "Witnesses said the suspect was in Austins drinking and making racial slurs. At one point, they said, one of the regulars stood up to the man."
Kuchibhotla and Madasani had been at Austins for about 30 minutes. They worked at nearby Garmin Ltd and were regulars at Austins. Maybe once or twice a week, the co-workers could be found on the Austins patio in the early evening and each would order a Jameson whiskey.
"We know them as the Jameson guys," said Garret Bohnen, who served the two. "They are super nice guys. They would sit, have a cigarette, have a few drinks and pay their tab and leave."
Jay Kansara of the Hindu American Foundation said in a statement, "We call upon the US Department of Justice and local law enforcement to investigate this murder as what it is, a hate crime. Anything less will be an injustice to the victims and their families."