Yediyurappa swearing-in highlights: BSY-led govt calls for trust vote on July 29 to prove majority in Karnataka Assembly
Updated on Jul 26, 2019 09:21 PM IST
BJP stalwart BS Yediyurappa was sworn in as the chief minister of Karnataka for 4th time at 6:30 pm on Friday evening, three days after the collapse of coalition government led by HD Kumaraswamy in a trust motion. The oath of office and secrecy was administered by Governor Vajubhai Vala at a ceremony at the Raj Bhavan.Earlier today, Yediyurappa had met Governor Vajubhai Vala to stake the claim to form the government and requested him to administer the oath of office and secrecy on Friday itself. Yediyurappa said as the acting Leader of the Opposition he didn't need to call a Legislature Party meeting to get himself elected as the leader. The 76-year-old leader from the politically dominant Lingayat community has taken oath as Karnataka's CM for the fourth time — the last one was after the May 2018 Assembly polls.Highlights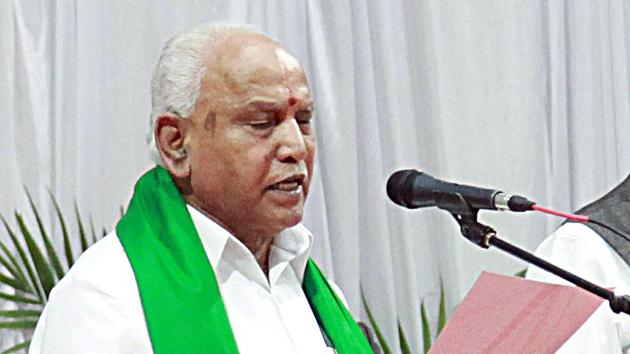 7:56 pm IST
Confidence motion to take place on Monday
Chief Minister of Karnataka BS Yediyurappa has said that they strength of his government will be tested on Monday in a confidence motion. The CM has also said that the state assembly will take up the finance bill immediately after the confidence motion.
7:55 pm IST
Promises galore by Yediyurappa within an hour of taking oath
The newly appointed chief minister of Karnataka has promised to address the drought facing the farmers in the state. "We will focus primarily on farmers and workers. I have taken two prominent decisions at the Cabinet meeting. In addition to the PM Kisan scheme I will also provide two installments of Rs 2000 to the beneficiaries."
7:52 pm IST
BSY thanks PM Modi, Amit Shah after becoming CM
Addressing the reporters, CM Yediyurappa said, "I have come to this place thanks to prime minister Narendra Modi and home minister Amit Shah."
7:50 pm IST
I believe in forget and forgive, says BSY rejecting politics of revenge
In 4-5 months, Yediyurappa said, that his party has to show the difference between our government and the coalition government. "Administration has collapsed and we need to rectify that. We will not go in for politics of revenge. I believe in forget and forgive, the fourth times CM of Karnataka said.
7:47 pm IST
I thank 6 crore people of Karnataka for making me the CM: Yediyurappa
Addressing his first press conference after taking charge as CM, Yediyurappa said, "I thank the 6 crore people of Karnataka for making me the chief minister of the state. I feel that my becoming chief minister is a matter of pride for the people."
6:38 pm IST
Muralidhar Rao, SM Krishna present at the swearing-in ceremony
BJP general secretary Muralidhar Rao along with former Karnataka Chief Minister SM Krishna-- who joined the BJP on March 22, 2017-- was present for the function. Congress rebel MLA Roshan Baig was also present for the swearing-in despite Bajrang Dal activists opposing his presence in messages posted on social media.
6:32 pm IST
BS Yediyurappa takes oath as CM
BJP's face in Karnataka BS Yediyurappa has taken oath as the state's next chief minister at 6:30 pm. Yediyurappa is the 23rd chief minister of Karnataka state, different from the Mysore state that existed before that. Draped in white safari suite, with a folded green shawl over his shoulders, the 75-year-old Yediyurappa took oath in Kannada in the name of god in the presence of dignitaries, special invitees and top officials of the state, including police officers.
6:30 pm IST
Karnataka Governor arrives at Raj Bhawan
Governor Vajubhai Vala has arrived at Raj Bhavan to administer BS Yediyurappa's oath.
6:00 pm IST
CM designate BS Yediyurappa arrives at Raj Bhavan
Oath will be administered to BJP leader BS Yediyurappa shortly who has arrived at the Raj Bhavan. Yediyurappa today met Governor Vajubhai Vala to stake the claim and requested him to administer him the oath of office and secrecy on Friday itself between 6 -6:15 pm.
5:57 pm IST
BJP will provide stable government in Karnataka: Nadda
Dismissing the Opposition's claim that his party engineered defections to bring down the Congress-JD(S) government in Karnataka, BJP working president J P Nadda said on Saturday that it fell due to internal reasons and asserted that his party would provide a stable government in the state.
5:53 pm IST
Hold orders issued by Kumaraswamy: Karnataka Chief Secretary to Secretaries
Karnataka Chief Secretary T.M. Vijaybhaskar has ordered all departmental Secretaries to put on hold the orders given by caretaker Chief Minister H D Kumaraswamy in July.
"B S Yediyurappa has given directions suggesting all Dept Secretaries to put on hold the orders given by care-taker Chief Minister (HD Kumaraswamy) in July, till they are looked into by Chief Secretary or Dept. Secretaries," he said in a letter to the Secretaries.
5:51 pm IST
Congress, JD-S to boycott Yediyurappa's swearing-in
Congress and JD(S) have decided to boycott the swearing-in of BJP leader BS Yediyurappa as the state's chief minister on Friday evening.
"Our party's state President Dinesh Gundu Rao has directed our leaders, former ministers and legislators to boycott Yediyurappa's oath-taking ceremony as chief minister, as he has no moral right to assume power when his party does not have the majority in the Assembly," Congress spokesman Ravi Gowda said.
5:45 pm IST
Yediyurappa visits BJP office before taking oath
Shortly before taking oath as chief minister of Karnataka, senior BJP leader B S Yediyurappa on Friday addressed his party workers at the state BJP headquarters and thanked the party workers for their continued support.
5:37 pm IST
'Karnataka govt fell on its own', says BJP's working president JP Nadda
Party's Working President JP Nadda said that the Karnataka government had collapsed due to its own reasons and the BJP will provide a "stable" and "clean" government under BS Yediyurappa's leadership. Nadda, also rejected suggestions that party's Karnataka mascot was over the hill at 76 years of age and may not qualify to hold a post according to BJP's own retirement policy for party elders.
Read full story here.
5:35 pm IST
Yediyurappa offers prayers at Kadu Malleshwara temple
BJP's state president BS Yediyurappa offers prayers at Kadu Malleshwara temple in Bengaluru ahead of taking oath as chief minister at 6 pm today.
5:30 pm IST
Yediyurappa visits National Military Memorial ahead of swearing-in
Yediyurappa paid tributes at the National Military Memorial ahead of taking oath as the 25th Chief Minister of the state.
"On this day 20 years ago, Indian armed forces defeated Pakistan in 1999 in the Kargil war. As a mark of respect to all soldiers who fought this great war, I have come here to pay my tribute to our armed forces before taking oath as the Chief Minister of Karnataka," Yediyurappa told reporters before visiting the memorial.
On account of 20th year of Kargil Vijay Diwas, visited Bengaluru's National Military Memorial to pay tributes to our brave hearts. Our MLAs were present. #KargilVijayDiwas pic.twitter.com/wXU0N7WJdR

— B.S. Yediyurappa (@BSYBJP) July 26, 2019
5:15 pm IST
Yediyurappa preps for oath, changes spelling again on astrologer's advice
Yediyurappa has gone to great lengths this time around to ensure that he enjoys a good stint at power having reverted to spelling his name as Yediyurappa as he used to before 2007, when he changed it to Yeddyurappa. The changed in spelling has come because he felt Yeddyurappa wasn't lucky, especially because he has not managed a full five-year term in his previous three attempts.
Read full story here.
Close Story
Personalise your news feed. Follow trending topics