Latest from vajubhai vala
Speaker Ramesh Kumar's disqualification order does, however, end any possibility that some of the 14 rebels could be persuaded by the Congress-JDS team to change their mind at a later date and vote against the freshly minted chief minister BS Yediyurappa.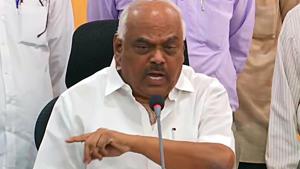 Updated on Jun 06, 2020 06:29 AM IST
BJP stalwart BS Yediyurappa was sworn in as the chief minister of Karnataka for 4th time at 6:30 pm on Friday evening, three days after the collapse of coalition government led by HD Kumaraswamy in a trust motion. The oath of office and secrecy was administered by Governor Vajubhai Vala at a ceremony at the Raj Bhavan.Earlier today, Yediyurappa had met Governor Vajubhai Vala to stake the claim to form the government and requested him to administer the oath of office and secrecy on Friday itself. Yediyurappa said as the acting Leader of the Opposition he didn't need to call a Legislature Party meeting to get himself elected as the leader. The 76-year-old leader from the politically dominant Lingayat community has taken oath as Karnataka's CM for the fourth time — the last one was after the May 2018 Assembly polls.Highlights

Updated on Jul 26, 2019 09:21 PM IST
Kumaraswamy was asked by the Governor Vajubhai Vala to continue as a caretaker chief minister till a new government was sworn-in, he was also barred from taking any major policy decisions, like the loan waiver for the landless-labourers.

Updated on Jul 24, 2019 09:39 PM IST
Despite assurances by speaker KR Ramesh Kumar in the morning that the vote would be held during the day, the House was adjourned around 11.40pm without the floor test being conducted.

Updated on Jul 23, 2019 08:32 AM IST
The announcement came hours after N Mahesh, the BSP legislator, said he had been asked to skip the vote by the party.

Updated on Jul 21, 2019 11:09 PM IST