Kejriwal promises job quota for Goa residents ahead of state polls
"Tourism dependent families in Goa are unemployed and they will be given
₹
5,000 per month. Likewise, mining dependent families will also get a monthly stipend of
₹
5,000," Kejriwal said.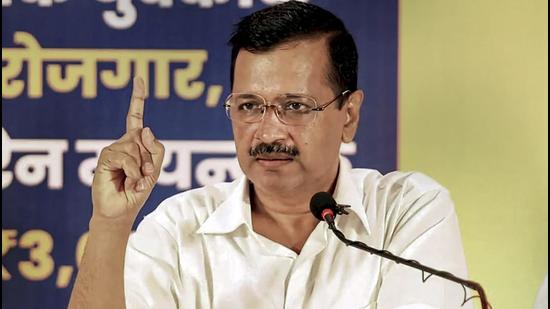 Updated on Sep 21, 2021 11:48 PM IST
By Gerard de Souza
, Panaji
Delhi chief minister and Aam Aadmi Party (AAP) national convener Arvind Kejriwal on Tuesday announced one job for each family in Goa and 80% reservation in private sector jobs for local residents if his party forms the next government in the state.
Kejriwal, who made similar promises in poll-bound Uttarakhand on Sunday, also announced a monthly income support of ₹3,000 for unemployed youths in Goa till they land jobs.
Addressing reporters here, the Delhi chief minister said unemployment was one of the biggest issues facing the state and the Covid-19 pandemic has added to the woes. "Corona has made people unemployed, people have gone bankrupt. For many years, Goa has not had mining, there was unemployment on that front too. Many youngsters are forced to leave the state. We have to create job opportunities here. You need an honest government with good intentions," he said.
"Government jobs are reserved for Goans with 15 years of domicile... we will bring a law to reserve 80% private jobs for Goan youth. We will ensure employment to one youngster per household, and a monthly stipend of ₹3,000 till that happens," he added.
The AAP chief arrived in the state on Monday for a two-day visit, to drum up support for his party ahead of polls in February next year.
He also tried to woo the people dependent on mining and tourism sectors, the major recruiters in Goa. While mining came to a standstill after the Supreme Court in February 2018 cancelled the renewals of 88 operational mining leases and asked that they be issued afresh, the Covid-19 induced lockdown has adversely affected the tourism industry.
Kejriwal assured a monthly remuneration of ₹5,000 to families dependent on the two industries till these sectors are normalised. "Tourism dependent families are unemployed and they will be given ₹5,000 per month. Likewise, mining dependent families will also get a monthly stipend of ₹5,000," he said.
Kejriwal promised to set up a skills university offering various courses, through tie-ups with corporates, to students who complete Class XII and assured jobs on completion of the course.
Taking a dig at the ruling Bharatiya Janata Party (BJP) in the state for allegedly "copying" the AAP's governance model by promising free water and doorstep services scheme of his government, Kejriwal said: "Why vote for 'duplicate' when you can vote for the 'original'?"
Asked how he intends to fund his poll promises in Goa, Kejriwal said it would be through 'honesty'.
"When the Delhi government was formed, it was revenue negative. The CAG report now says that the Delhi government is running in profit. We achieved it through honesty. There is no lack of revenue in Goa, there is a lack of intent," he said.
This is Kejriwal's second visit to the state in the last two months. In his earlier visit in July, he had assured free electricity up to 300 units per month in the state if his party was voted to power.
In the 2017 Goa assembly polls, the AAP had drawn a blank.
Reacting to Kejriwal's announcements, BJP leader and former MP Narendra Sawaikar said: "It is easy to say anything. These are hollow promises. The people of Goa have seen the work done by the BJP government over the last nine-and-a-half to ten years and will vote on the basis of that."
"Unless the AAP strengthens its base and moves around on the ground, such promises will not cut ice with the electorate enough to win election," a political analyst, who refused to be named owing to his past associations with various political parties, said.
Close Story