Kerala CPI(M) leader's speech against Cong state chief triggers row
Published on Mar 10, 2022 12:35 AM IST
Addressing a party function in Cheruthoni in Idukki,Varghese had said "Sudhakaran's life was a charity given by the party and it did not want to kill such a wicked person."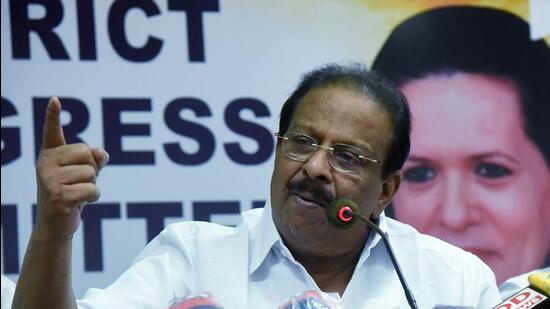 Two days after Communist Party of India(Marxist) Idukki district secretary CV Varghese's speech against Kerala Congress president K Sudhakaran, his words have whipped up a controversy with opposition parties now seeking a probe against him.
Addressing a party function in Cheruthoni in Idukki,Varghese had said, "Sudhakaran's life was a charity given by the party and it did not want to kill such a wicked person."
The meeting was held in protest against the politics of violence.
Last month, a worker of the CPI(M)-backed Students Federation of India (SFI) was stabbed to death allegedly by Youth Congress workers in an engineering college in the district.
During the meeting, Sudhakaran had defended the Youth Congress activists who had been arrested in connection with Dheeraj's murder.
As Varghese's controversial speech surfaced, senior Congress leaders, including AICC member K C Venugopal, opposition leaders V D Satheesan and Ramesh Chennithala, came out in support of Sudhakaran.
"The statement is a challenge to the rule of law...the district secretary should not forget the fact that Sudhakaran is the president of the KPCC. The CPI(M) has stooped to the level of appointing people who make such provocative and degenerating statements as district secretaries," Chennithala said.
Earlier, Sudhakaran had alleged that many Congress workers arrested in connection with the case were innocent and SFI workers' intolerance led to the clashes that resulted in the killing. Later, Varghese justified his speech saying it was a reply to "Sudhakaran's insensitive remarks."
Satheesan and Venugopal decried his speech and sought action against him.
"The CPI(M) leader made it clear that there were many attempts on Sudhakaran. It shows beyond doubt that politics of murder was part of the party agenda. It is sad that party leaders are yet to disown his speech," said Venugopal.
When asked about this party state secretary, Kodiyeri Balakrishnan said he was not aware of the speech and he will react only after going through it.
But another senior leader M M Mani said it was only a reply to Sudhakaran's utterances and there was no need to read between lines.
In 2012, former minister M M Mani had also made a similar speech claiming that the party had made a list of 13 political rivals in the district and systematically done them away with.