Khasi council in Meghalaya passes Bill to strip women of ST status, rights if they marry outside tribe
Updated on Jul 26, 2018 09:22 PM IST
Khasi women of Meghalaya who marry non-Khasis will lose their scheduled tribe status and the benefits that come with it if the Bill is approved by the state's governor.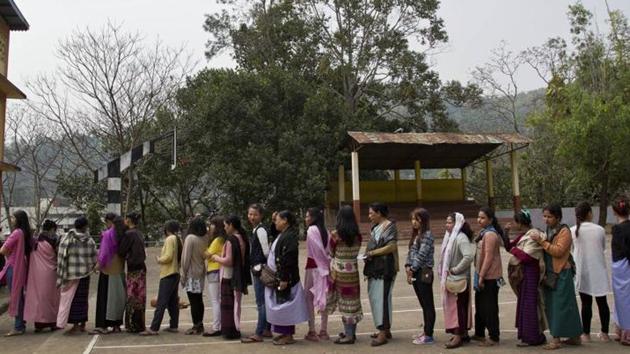 Khasi women of Meghalaya who marry non-Khasis will lose their scheduled tribe (ST) status and the benefits that come with it if a controversial Bill passed by an autonomous council is approved by the state's governor.
The Bill, passed unanimously by the Khasi Hills Autonomous District Council (KHADC) on Wednesday, says children of Khasi women who marry outside the tribe would also be termed non-Khasi.
"Any Khasi woman who marries a non-Khasi as well as her offspring born out of such marriage shall be deemed as non-Khasi who shall lose the Khasi status and all privileges and benefits as a member of the Khasi tribe who cannot claim preferential privileges under any law," the Bill read.
As per the Sixth Schedule of the constitution, autonomous regional and district councils in northeast India have the powers to make laws on a variety of subjects ranging from the use of land and management of forests and water to inheritance, marriage and social customs.
Khasis are one the three major tribes of Meghalaya, the others being Garo and Jaintia, which follow a matrilineal society. The children take their mother's surname and ancestral property is inherited by the youngest daughter.
The three tribes are listed as Scheduled Tribes (ST) and get all the benefits that come with the status such as government jobs and university seat quotas under an affirmative action programme targeted at disadvantaged communities.
The Khasi Hill Autonomous District (Khasi Social Custom of Lineage) (Second Amendment Bill) 2018 aims to protect the Khasi people from misuse of the custom of lineage.
"It is a very simple Bill to put a stop to mixed marriages as they are a threat to our tribe. It will not be retrospective and won't affect mixed marriages that took place earlier," HS Shylla, chief executive member of KHADC, said.
Shylla, who assumed office earlier this month, said in future a similar Bill could be introduced for Khasi men marrying outside the tribe. But he said it was urgent to expedite the one dealing with women as Khasi men marrying non-Khasis is "very negligible" while it was not the case with women.
"We will meet the chief minister early next month and ask him to expedite the process of giving the Bill a nod from the Governor's office," he said.
Several prominent women residents of the state have termed the Bill "unconstitutional' and an example of how "patriarchal" and "misogynist" the Khasi society is beneath its veneer of matriliny.
"I feel the Bill is highly unconstitutional, patriarchal, bigoted, partial and partisan. It shows KHADC is no different from the 'khap panchayats' in other parts of the country. I am sure it will never get approved by the governor," said Patricia Mukhim, editor of The Shillong Times.
Women's rights activist Agnes Kharsiing of Civil Society Women's Organisation (CSWO) said the Bill violated the constitutional right to equality and questioned why KHADC had passed it in such a hurry.
Some said it was a pre-poll gimmick. Elections for representatives of KHADC are due early next year, and the Bill was a way of hiding non-performance under the garb of Khasi pride, they said.
"This is an election gimmick. The real issues like protection of our tribal rights, land rights and other important topics are not discussed and the KHADC is wasting public time and money by passing such a Bill, which will not stand constitutional and legal tests," said Angela Rangad of Thma U Rangli-Juki, a people's group.
While children of Khasi women who marry non-Khasis take the name of the mother's clan for Khasi men marrying outside the tribe a ceremony call 'tang jait' is performed by which children from such marriages are incorporated into the matrilineal setup.
Over the past decades, demands have been raised, especially from a section of Khasi men, to do away with the matrilineal setup and transform the Khasi society into a patrilineal one.
Keith Pariat, president of Syngkhong Rympei Thymmai, a men's rights organization which advocates a patrilineal Khasi society, said the Bill must be debated and discussed thoroughly before it is enacted.
"One can't deny the fact that over the years many outsiders have taken advantage of loopholes in our customary laws. But I feel it is necessary to take all views and opinions from stakeholders before rushing into enacting a law," he said.
(With inputs from David Laitphlang in Shillong)