Left, Cong-backed unions to strike over labour law freeze
Indian National Trade Union Congress (INTUC) president G Sanjeeva Reddy said representatives of different unions held a meeting on Thursday via video-conferencing.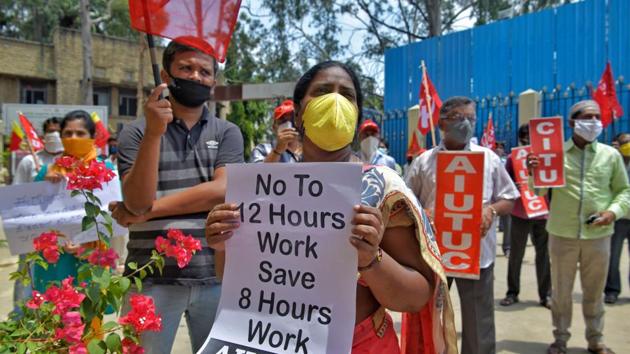 Updated on May 16, 2020 11:41 AM IST
Hindustan Times, New Delhi |
Aurangzeb Naqshbandi and Smriti Kak Ramachandran
New Delhi: Trade unions allied to the Congress and Left parties and other non-affiliated organisations have called a nationwide hunger strike on May 22 to protest the suspension of labour laws by the Bharatiya Janata Party (BJP) governments in Uttar Pradesh, Madhya Pradesh and Gujarat.
Trade unions such as the Indian National Trade Union Congress (INTUC), a frontal organisation of the Congress, the Centre of Indian Trade Unions (CITU), which is affiliated to the Communist Party of India-Marxist(CPI-M), the Self Employed Women's Association (SEWA) and the All India Trade Union Congress (AITUC) have joined hands against the move by these state governments.
INTUC president G Sanjeeva Reddy said representatives of different trade unions met on Thursday through video conference and decided to go for a day-long hunger strike on May 22 to protest against the "draconian move" by BJP-ruled states.
In a statement, CITU general secretary Tapan Sen last week called on trade unions, irrespective of their affiliation, to unite and resist this "barbarous and brutal machination on the rights and livelihood" of workers.
The Bharatiya Mazdoor Sangh (BMS), a trade union affiliated to the Rashtriya Swayamsewak Sangh (RSS), too has called a nationwide protest on May 20 against the decision by the BJP governments. The RSS is the ideological mentor of the BJP.
Asked if they would take along BMS since it was also opposed to the move, Reddy said this matter wasn't discussed at Thursday's meeting.
"We have not approached the BMS. We have seen in the past how they were first keen to join us and later backtracked," he said.
The BMS has criticised the governments of Uttar Pradesh, Madhya Pradesh and Gujarat for doing away with labour laws, and also Rajasthan, Goa and Odisha for increasing working hours.
The RSS affiliate described these changes as "unheard of in history" and "rare even in most undemocratic countries".
Why then are the unions not burying their differences to come together? BMS president Saji Narayanan said left-affiliated trade unions seldom overlook political considerations in taking up issues.
He said while trade unions were vocal in criticising the Centre for the decision to withhold additional DA, they chose not to protest when the Kerala government used an ordinance to cut salaries.
In April, the Pinarayi Vijayan government issued an ordinance to cut a month's salary in five installments for all state-owned enterprises, public sector undertakings (PSUs), quasi-government organisations and universities, among others.
Narayanan said there have been instances in the past when the unions came together but the arrangements did not last.
A BMS functionary said trade unions, irrespective of their political affiliation, came together in the 1990s as the national campaign committee, but later broke up since differences emerged on the Ramjanamabhoomi issue.
In December 2013, INTUC joined hands with Left-allied unions and called for a Bharat Bandh after the Congress-led United Progressive Alliance (UPA) government announced its decision to wind up eight PSUs.
Eleven central trade unions came together against the proposed changes to labour laws by the then UPA government.
A fresh attempt to bring the unions together was made in 2018, when BMS and a faction of INTUC formed a non-political group, the Confederation of Central Trade Unions or CONCENT, to bring together unions on common issues related to labour protection.
Communist Party of India (CPI) general secretary D Raja said though BMS had been part of some common platforms that were launched to bring together central trade unions, it began to withdraw from protests after the BJP came to power in 2014.
"Dilution of labour laws cannot be justified by the government and they cannot be accepted. Labour laws were not given on a platter, they are hard-won," he said.
The issue has triggered a fresh slugfest between the BJP and the opposition, with former Congress president Rahul Gandhi saying on Monday the fight against the Coronavirus cannot be an excuse to exploit workers, suppress their voice and crush their human rights.
The remarks came in the wake of states such as Uttar Pradesh, Gujarat and Madhya Pradesh amending labour laws.
Gandhi also said there cannot be any compromise on basic principles by allowing unsafe workplaces.
"Many states are amending labour laws. We are together fighting against corona, but this cannot be an excuse to crush human rights, allow unsafe workplaces, exploit workers and suppress their voice. There cannot be any compromise on these basic principles," he tweeted.
However, the BJP insisted that labour law reforms are a long-standing demand of unions and industries.
"As it is in the concurrent list, the Centre had earlier consolidated 40 existing laws into four codes to streamline compliance and help formalisation of the labour force. Now, some state governments are working for further streamlining the functioning of industry and helping restart the economic cycle. These amendments are for the benefit of the economy as a whole, including workers," BJP spokesperson Gopal Agarwal said.
Topics
Close Story