Lok Sabha polls 2019 | 'Quota no longer priority': 18-year-old Patidar doesn't want reservation, but an IT job
Rutvik Patel was only 14 years old in 2015 when his community's agitations for government quotas in higher education and jobs blazed through Gujarat. Hundreds of thousands of young Patidars poured into the streets from Surat to Ahmedabad. They burnt police stations, attacked the houses of state ministers, and wrecked public property.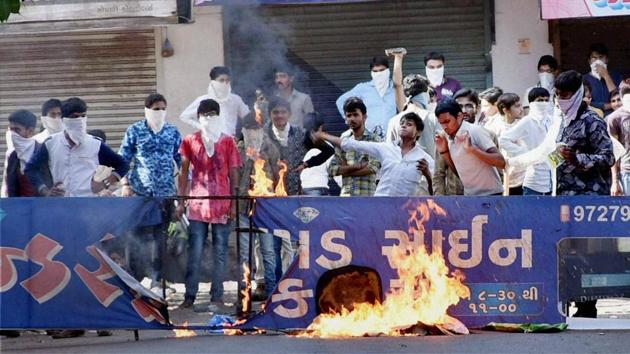 Updated on Mar 18, 2019 09:16 AM IST
Eighteen-year-old Rutvik Patel has a clear-cut plan for his career. First he will finish his Bachelor's course in computer application from the private college he attends in Mehsana, then move to a "megacity" ("Ahmedabad or Bangalore or Pune") and find an information technology job, and finally launch his business. What about education quota, government job, the Patidar movement? "That is over. We know we are not going to get reservations. That [constitutional] limit has been reached. No matter how many rallies are organised, the movement will not become what it used to be," Rutvik said.
He was only 14 years old in 2015 when his community's agitations for government quotas in higher education and jobs blazed through Gujarat. Hundreds of thousands of young Patidars poured into the streets from Surat to Ahmedabad. They burnt police stations, attacked the houses of state ministers, and wrecked public property. In response the government ordered the police to fire at them, imposed curfews, and arrested their dynamic 22-year-old leader Hardik Patel.
His call had resonated with large numbers of Patidars across the state. They may be numerically vast (14% of Gujarat's population) and politically powerful, but the community is no longer economically secure, he argued. Patels still owned the biggest farms, factories and businesses, but sections of them were struggling to get by. So, they asked the ruling BJP, which counts Patidars as major vote base, to recognise them as a "backward" caste and make them eligible for affirmative action.
"Give quota to Patels or the lotus will not bloom in 2017," Hardik Patel had warned the BJP in a rally in Ahmedabad attended by half a million people. The BJP did suffer considerable losses in the rural pockets in the civic polls that followed, and it even changed the chief minister — from Anandiben Patel to Vijay Rupani — to placate the Patels.
But the party was back in the game by 2017, winning 99 seats in the 182-member assembly and forming the sixth consecutive government in the state. Now a 27-year-old, Hardik Patel is trying to hold back the BJP once again, from criticising the Prime Minister's Pulwama response to voicing the national discontent on farm distress and unemployment, but his original movement for Patidar reservations has lost steam.
Back to business
"Not many Patidar youth go to the rallies today. We are interested, but the movement has been tainted," said Rutvik. "Our leader has been accused of doing this, doing that. Some people say he compromised, some say he took money to end the campaign," he said, adding that many Patidars have been won over by the BJP since. "We have been divided. Half of the community has turned against him. Now it will be very difficult to get up and stand together."
Many Patidars have also found better use for their time. "People are going back to business. No wants to waste their time attending rallies. The business folk openly say that they don't want anything to do with the quota campaign. They are keen to pull their kids into their businesses,'' Rutvik said.
Once an active leader of the Patidar Anamat Andolan Samiti (Paas) in Mehsana, Kalpesh Patel now works full-time at his family's factory making iron sheds. "The conspiracy theories really affected people's attitude. Their hopes for reservations went down with time. But more than anything else, we had work to do," said Kalpesh as he supervised a ship load of building material to be sent to Uganda, where he is shortly moving himself to join the growing league of Gujarati businessmen. "The Africans there make Gujarati food as good as we get here," he said. "Going out - Africa, America, Canada, legally or illegally - is the top priority of young Patidars today instead of fighting for quotas," he said. "Whether they are going for a Master's degree or to work illegitimately in a Patel restaurant, they feel it's better than being stuck here."
Poverty and privilege
Many of Rutvik's classmates want to leave India. "Those who plan to go out are naturally not interested in joining the Patidar movement. Their common thinking is, 'There are other people in the community, they will carry on with it.' Now the few people who are still in will need a strong leader for a new beginning," he said. He mentioned that Hardik Patel's recent wedding has caused further apprehensions. "People are saying that now his attention will be divided. He will get busy with his own life."
Rutvik still believes in Hardik Patel. "He is on it. He had said he would do 14 to 15 rallies before the elections. If he is widening his campaign from Patidar quotas to farmers' issues, then that too is good for the community," he said. "The Patidars who are suffering the most are farmers. Their income is not enough for them to give higher education to their children. Even with 75% marks in board exams, they are left behind in college admissions. Look at my friend's case -- his whole family is in farming. They are not doing well. His father had to a take a loan at zero per cent interest from the community fund to send him to college. That's the only way in which someone like him can make it to a college like this," he said.
Rutvik agrees that Patels are still privileged enough to have community funds, and not every young man should queue up for quotas. He certainly sees no reason to do that. He wants to leave Mehsana where his family has a factory for hydraulic pipes. "My father began with a paan shop. I used to work there myself as a kid," he said. Business is his life's greatest passion, but his ideal business is based in a big city and enabled by modern technology. "In the big cities, you can make something good of yourself. I want to start as a web developer."
BJP all the way
He will cast his first vote in Mehsana, however. The Patel-majority district was at the centre of quota protests against the BJP in 2015. The community has had more reasons to complain since. "Business was impacted most by demonetisation and GST [Goods and Services Tax]. The people who have had to run around doing paperwork have been bad-mouthing Modi. Not everyone is good with digital technology either," said Rutvik. "But that's the only reason Modi's image has gone down," he pointed out. Since 2015, BJP has been gradually gaining back electoral ground in the region.
As far his own vote is concerned, Rutvik doesn't see any other option. "Since we were kids, we have been hearing that BJP is good for us. That remains the same today," he said.
Most of the political updates he receives through social media are around the party and the Prime Minister. "Also, the BJP's performance in Mehsana is decent. Thoda ghapla hai but kaam karte hain [there is some corruption but they do their job].If you take any XYZ party, there will be some scam, par hum apna faayda dekhte hain [our community sees its own interest]. For us BJP is good."
What about the Congress party? "Their image was really poor to begin with, but their graph is slowly rising," he said. The fact that Hardik Patel has just formally joined the Congress will further help its cause. "If he is with the Congress, then he will make them work towards reservation, so some of us will vote for the party based on that," he said.
But largely, he says, the party doesn't appeal to him and his friends. "Galat party nahin hai [It's not a bad party]. But we don't feel the attraction. They do want to bring in development, but the people who work for Rahul Gandhi on the ground won't let that happen," he said. He thinks Priyanka Gandhi's official entry into politics is good for the Congress, but its effect won't show in Gujarat for a few years.
"Even now there are some people who say BJP nikalo [throw out the BJP] but they accept that Congress ko nahin la sakte (you can't bring in the Congress)."
Close Story
Personalise your news feed. Follow trending topics