Maha crisis highlights: 'Who are you trying to scare?,' Shinde hits out at Sena
Jun 24, 2022 01:16 AM IST
Shiv Sena leader Sanjay Raut expressed confidence in Shiv Sena sailing through the crisis."Uddhav Thackeray is Maharashtra Chief Minister and he will remain the CM. If we get the chance, we will prove our majority on the floor of the House," he said.
Maharashtra Political Crisis LIVE: Amid the escalating political crisis in Maharashtra, a resolution passed by the Shiv Sena Legislature Party carrying signatures of 34 MLAs that rebel leader Eknath Shinde continues to be the leader, has been sent to the state Governor Bhagat Singh Koshyari. Following the political crisis, Shiv Sena had removed Eknath Shinde as the party's legislative party leader. However, the rebels have hit back with the resolution.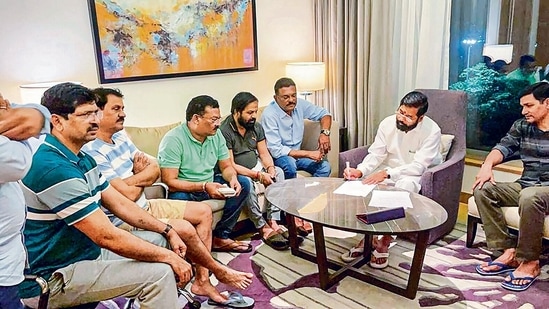 Meanwhile, chief minister Uddhav Thackrey on Wednesday night vacated his official residence 'Varsha' and said that he was ready to quit as CM, but the rebel MLAs must come and tell him on his face that they did not have the trust in him.
ALSO READ | Will struggle: Sanjay Raut's tweet after Uddhav Thackeray's address
The political crisis facing the Shiv Sena-led Maha Vikas Aghadi (MVA) government in Maharashtra deepened on Wednesday after rebel Shinde claimed the support of 46 MLAs.
Follow all the updates here:
Jun 23, 2022 11:26 PM IST

More independent MLAs reach Guwahati

Maharashtra Independent MLAs Kishor Jorgewar and Geeta Jain also reach the Radisson Blu Hotel in Guwahati.

Jun 23, 2022 11:10 PM IST

'Who are you trying to scare?' Shinde fires back after Sena seeking to dismiss 12 legislators

Rebel Shiv Sena leader Eknath Shinde on Thursday fired back with a series of tweets after the party sought to dismiss 12 legislators, including him, for their ongoing actions. "Who are you trying to scare?" one of Shinde's tweets read.

Jun 23, 2022 09:54 PM IST

Shiv Sena seeks dismissal of 12 legislators, including Shinde

Shiv Sena MP Arvind Sawant said on Thursday that the party has sought dismissal of 12 legislators, including Eknath Shinde. "This is a legal battle as well as political fight now," he added. Read more

Jun 23, 2022 09:24 PM IST

Thane independent MLA leaves for Guwahati

Independent MLA from Mira Bhayander in Thane and former BJP worker left for Assam's capital Guwahati, her secretary Rajesh Barkare said earlier on Thursday.

Jun 23, 2022 09:21 PM IST

'Only floor of Assembly can prove': Sharad Pawar on CM Thackeray-led regime's future

NCP boss Sharad Pawar said on Thursday that the Assembly floor is the only place where it can be proved whether the Uddhav Thackeray-led government is in minority in the state or not. He asserted that the current political situation will change once the rebel MLAs return to Mumbai. Read more

Jun 23, 2022 07:40 PM IST

Rebel Shiv Sena MLAs in Assam unanimously choose Shinde as leader

Rebel Shiv Sena MLAs of Maharashtra camping at five-star Radisson Blu Hotel in Assam's capital Guwahati unanimously chose Eknath Shinde as their leader.

Jun 23, 2022 06:49 PM IST

'Can provide support to MVA from outside also': Maha Cong chief

Maharashtra Congress chief Nana Patole said on Thursday that if the time comes, the party will provide support to the MVA regime in the western state from "outside also", ANI reported.

Jun 23, 2022 05:12 PM IST

'Ready for floor test, will remain with MVA': Congress

Amid political stalemate in Maharashtra, Congress said on Thursday that the party is with Shiv Sena. Party's state chief Nana Patole said his party was ready for a floor test and was standing by the Shiv Sena to stop the BJP from coming to power. Congress' Mallikarjun Kharge echoed Patil, ANI reported. Read more

Jun 23, 2022 04:30 PM IST

NCP leader Praful Patel reaches YB Chavan Centre for meeting of party MLAs

NCP leader Praful Patel reaches YB Chavan Centre in Mumbai for a meeting of party MLAs over the ongoing political turmoil in Maharashtra. Party supremo Sharad Pawar will also attend the meeting.

Jun 23, 2022 03:41 PM IST

Poster spotted in Aurangabad hailing Fadnavis as CM

Amid the political crisis in Maharashtra, a poster was spotted in Aurangabad hailing BJP leader Devendra Fadnavis as the chief minister. "

Jun 23, 2022 03:04 PM IST

'Show courage, come back to Mumbai in 24 hrs': Raut to rebel MLAs

Shiv Sena MP Sanjay Raut at a press conference on Thursday asked rebel party MLAs, who are camping in Assam, Guwahati to come back to Mumbai in 24 hours and "show courage". "We will discuss," he added while referring to the rebel MLAs' demand of pulling out of the MVA front that Sena shares with Congress and the Nationalist Congress Party (NCP). Read more

Jun 23, 2022 02:29 PM IST

We are in touch with 22 MLAs with Eknath Shinde: Sanjay Raut

Shiv Sena MP and party spokesperson Sanjay Raut said on Thursday that they are in touch with as many as 22 MLAs who are with rebel colleague Eknath Shinde. "If it comes to a floor test, MVA will win," he added.

Jun 23, 2022 02:18 PM IST

'Shinde saab…hum tumhare saath hain': Rebel MLAs chant in video

As many as 42 rebel MLAs that have sided with Shiv Sena leader Eknath Shinde can be seen in a new video at Guwahati's Radisson Blu hotel. They sit together and chant "Shinde sa'ab tum aage badho, hum tumhare saath hain (Shinde sir, you go ahead, we are with you)".

Jun 23, 2022 01:55 PM IST

'Dummy cars and govt on dialysis...' - union minister's jibe

Dummy cars and a government on dialysis do not last long, Union minister Mukhtar Abbas Naqvi said on Thursday while taking potshots at the political crisis in Maharashtra where the Uddhav Thackeray-led MVA government is fighting for its survival.

Naqvi was talking to reporters after voting in the Rampur Lok Sabha by-election.

Responding to a question on what would happen in Maharashtra, he recited a couplet from the famous "Mughal-e-Azam" song, "Jab raat hai aisi matwali to subah ka alam kya hoga."

"Dummy cars and a government on dialysis do not last long," the BJP leader said.

Jun 23, 2022 01:37 PM IST

Now, posters in support of rebel Eknath Shinde surface

Posters put up in Palghar, Dahanu, Talasari. (HT)

Posters put up in Palghar, Dahanu, Talasari in support of Eknath Shinde the rebel Sena MLA. Palghar district is a Sena citadel and all Sena workers obey Eknath Shinde.

Jun 23, 2022 01:30 PM IST

'We have a meeting at Varsha Bunglow': Sena leader

Shiv Sena leader Chandrakant Khaire told ANI that they have a meeting at Varsha Bungalow (official residence of Maharashtra CM). "CM Uddhav Thackeray told us to go to Varsha Bungalow," he said.

Jun 23, 2022 01:05 PM IST

Poster seeking blessings for 'future CM Fadnavis' surfaces

Visuals from Aurangabad. Source: ANI

Several posters have surfaced in Maha which read "Goddess Mauli, may your blessings continue to be upon us and Devendra ji come to offer prayers to you in Pandharpur, after becoming the CM."

Jun 23, 2022 12:42 PM IST

Rebel MLA claims he was stopped from meeting CM

Day after Uddhav Thackeray's address, Maha MLA in letter says 'legislators stopped from meeting CM'

Jun 23, 2022 12:41 PM IST

Poster of a rebel MLA smeared with ink, word 'traitor' written

Source: ANI

Poster of Shiv Sen MLA Sada Sarvankar, who is currently camping in Guwahati with rebel party leader Eknath Shinde, smeared with ink, word 'traitor' written on the poster in his constituency in the city. This comes a day after several women workers of the Shiv Sena rallied against Shinde and rebel MLAs and called them "traitors who tossed way Shiv Sena's and voters' faith."

Jun 23, 2022 12:35 PM IST

'When the floor test happens…,' What Raut said in his latest remark on rebels

Claiming of being in touch with 20 MLAs from the Eknath Shinde camp in Guwahati, Shiv Sena leader Sanjay Raut on Thursday said that everyone will see when the floor test happens, adding that those who leave party under pressure from ED are not a real follower of Balasaheb Thackeray.

Taking a dig at Eknath Shinde, Raut said, "We are with Balasaheb Thackeray work under Uddhav Thackeray, I support Balasaheb Thackeray and I follow Balasaheb Thackeray this type of statement won't prove you that you are real follower of Balasaheb. They have fear of ED."

Jun 23, 2022 12:17 PM IST

'Surprised that Mumbai MLAs have gone too,' says NCP's Jayant Patil

"We are surprised that Mumbai MLAs too have joined them but we are confident that they would listen to Uddhav ji's appeal that he made yesterday. They might have gone there to see what is happening and maybe bring them back," NCP state president Jayant Patil said. "Till the time we have the majority we would remain [in power]. If we don't have the majority, we will be sitting in the opposition," he added.

Jun 23, 2022 12:11 PM IST

Sena leaders reach CM's residence in Mumbai

Jun 23, 2022 11:56 AM IST

Congress leader in Karnataka accuses BJP of playing 'dirty politics' in Maharashtra

Accusing the Bharatiya Janata Party's attitude 'unconstitutional', Congress leader Dinesh Gundu Rao on Thursday alleged that the BJP is indulging in playing "dirty politics" in Maharashtra to come to power.

"The BJP, which has begun its dirty politics again in Maharashtra, is trying to come to power through the operation Lotus (Kamala). Operation lotus is the embodiment of BJP. The BJP, which has already won power through Operation Lotus in Madhya Pradesh and Karnataka, is now doing politics in Maharashtra. The BJP's attitude is unconstitutional," said a statement released by Rao.

Jun 23, 2022 11:43 AM IST

CM Uddhav won't hold any meeting today, says Raut

"CM won't hold any meeting today, some MLAs are going to Varsha Bungalow for official work. Nitin Deshmukh (who returned to Nagpur from Surat yesterday and alleged abduction attempts) will hold a press conference," Shiv Sena leader Sanjay Raut told news agency ANI.

Jun 23, 2022 11:38 AM IST

NCP leaders arrive at Sharad Pawar's residence

Jun 23, 2022 11:35 AM IST

Rebels need 2 more MLAs to split Sena, Pawar holds meet

A total of 42 rebel MLAs are present with Eknath Shinde at Radisson Blu Hotel in Guwahati, Assam. This includes 34 MLAs from Shiv Sena and eight Independent MLAs, sources told news agency ANI. Notably, seven more MLAs have joined the rebel group of MLAs led by Shiv Sena leader Eknath Shinde in Guwahati on Thursday morning further deepening the political instability in the ruling Maha Vikas Aghadi government in Maharashtra.

Meanwhile, Nationalist Congress Party (NCP) chief Sharad Pawar on Thursday held a party meeting amid political instability in the ruling Maha Vikas Aghadi (MVA) government in Maharashtra.

Jun 23, 2022 11:25 AM IST

Assam Minister Ashok Singhal arrives at Radisson Blu Hotel in Guwahati

Jun 23, 2022 10:46 AM IST

Sena's Sanjay Raut says 'in touch with 20 MLAs'

"I won't talk about any camp, I will talk about my party. Our party is strong even to this day...About 20 MLAs are in touch with us...when they come to Mumbai, you will get to know...will soon be revealed, in what circumstances, pressure these MLAs left us," Sanjay Raut told news agency ANI.

Jun 23, 2022 09:57 AM IST

BJP offer to Eknath Shinde: Deputy CM, key cabinet berths

The Bharatiya Janata Party (BJP) has offered rebel Shiv Sena leader Eknath Shinde the same deal it offered Nationalist Congress Party (NCP) Ajit Pawar in 2019 – the post of deputy chief minister – if he and his fellow dissenters bring about a change in the Maharashtra government, a senior party leader aware of the discussions said on Wednesday.

Jun 23, 2022 09:08 AM IST

Video shows 3 MLAs arriving in Assam amid high security

Jun 23, 2022 08:17 AM IST

Three more Shiv Sena's rebel MLAs reach Assam

Source: ANI

Three more Shiv Sena's rebel MLAs reach Radisson Blu Hotel in Guwahati amid political instability in the ruling Maha Vikas Aghadi government in Maharashtra.

Jun 23, 2022 07:30 AM IST

Video | Shinde poses with rebel MLAs in hotel in Guwahati

Jun 23, 2022 07:29 AM IST

Top 10 updates on political crisis in Maharashtra

Uddhav Thackeray on Wednesday maintained poise in the face of coup by his top minister, Eknath Shinde, as he broke silence and raised a pertinent question amid the rebellion: "If any of them (rebel MLAs) come to me or even give out a statement, and say that they do not want me as chief minister, I am ready to resign."

Meanwhile, Shinde, who is in Assam now, after a brief stay in Gujarat, on Wednesday night, said that Sena was not benefiting from the alliance with other parties in Maharashtra.

Jun 23, 2022 06:09 AM IST

'Kamal Nath sent to Maharashtra…couldn't save his own govt…': Shivraj Chouhan

Madhya Pradesh chief minister Shivraj Chouhan on Wednesday mocked his predecessor, Kamal Nath, over his visit to the state of Maharashtra as the ruling coalition works to deal with the rebellion by top minister Eknath Shinde. Shinde, who is in Assam's Guwahati, says he has the support of 40 MLAs.
Read more

Jun 23, 2022 05:56 AM IST

Supreme Court verdicts that may guide Maharashtra governor's actions

A Supreme Court judgment in 2013 clearly rules that governors are not bound by the aid and advice of the council of ministers, headed by a CM, when they believe that dissolving the assembly is not in the interest of the nation.

Jun 23, 2022 05:32 AM IST

Maha CM greets hundreds of Sena supporters on reaching 'Matoshree'

After reaching his family home 'Matoshree' in Mumbai on Wednesday, Maharashtra Chief Minister Uddhav Thackeray greeted hundreds of Shiv Sena supporters gathered outside his residence.

The chief minister left his official residence 'Varsha' along with his family members earlier today after he expressed his readiness to step down if rebel MLAs returned to Mumbai and made such a demand.

Story Saved