With the new generation of Mumbai-centric functionaries led by Aaditya Thackeray increasingly influencing the party's policies, the restiveness of MLAs from the hinterland went largely unaddressed.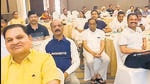 The crisis first broke out on Monday night after the Maha Vikas Aghadi (MVA) suffered a setback in the legislative council polls, a week after a similar debacle in the Rajya Sabha polls.

'Setting up another non-transparent BJP CARES fund Mr Shah?' Mahua Mitra tweeted amid the ongoing political crisis in Maharashtra.

Maharashtra crisis erupted Wednesday after rebel Shiv Sena leader Eknath Shinde fled with MLAs from his party and independent lawmakers to BJP-ruled Gujarat.

Speaking to media virtually, Deepak Kesarkar, the group's spokesperson, also said, among other things, that the rebels continue to be in the Uddhav Thackeray-led party and have only separated their faction.