Mahua Moitra's jibe at 'calculated tears' ahead of Supreme Court hearing on Bilkis Bano convicts' release today
Aug 25, 2022 09:21 AM IST
Mahua Moitra said a life sentence does not mean 'wholesale remission without cogent reason' -- neither garlands or laddoos. Chief Justice NV Ramana will hear three petitions against the release today.
Ahead of the Supreme Court hearing against the release of the 11 men convicted in the Bilkis Bano gangrape case, Trinamool MP Mahua Moitra on Thursday took a jibe at the BJP and said the "random delayed calculated tears by BJP's nari shakti brigade don't cut ice'. The Trinamool MP is one of the petitioners as she filed a PIL in the Supreme Court challenging the release of the 11 convicts. Also Read: Bilkis remission, Pegasus spying cases listed in Supreme Court today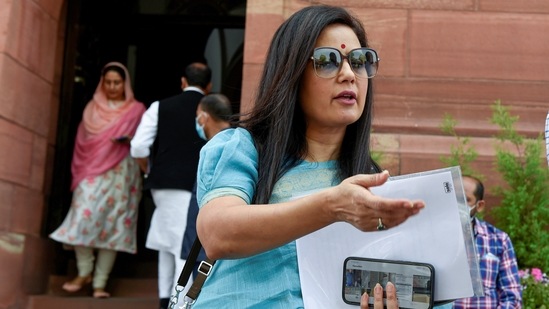 "Gujarat 11 convicted of "rarest of rare" crimes technically qualifying for death penalty. Life should mean life. Not wholesale remission without cogent reason. Not garlands and laddoos," Mahua Moitra tweeted, taking a swipe at how the convicts were garlanded on their return -- at the local VHP office.
Chief Justice NV Ramana will hear the three petitions against the release -- one filed by CPM leader Subhashini Ali through advocate Kapil Sibal, second by Mahua Moitra through Abhishek Singhvi and the third petition through lawyer Aparna Bhat.
The 11 convicts were sentenced to a life term in 2008 for the gangrape of Bilkis Bano and the murder of her family members after the Godhra riots. On August 15, the Gujarat government released them following its remission policy. The decision led to nationwide outrage while the state government defended the release.
'We are only challenging the remission'
The Supreme Court on Tuesday agreed to consider the listing the plea against the remission by the Gujarat government to the 11 life convicts in the case. Senior advocate Kapil Sibal said the challenge is against the remission -- the principles on the basis of which the remission was granted.
What Mahua Moitra's plea demands
In her petition, Mahua Moitra said the remission completely fails to bolster "either social or human justice and does not constitute a valid exercise of the guided discretionary power of the State".
The Trinamool MP demanded quashing of the remission and urged the top court to issue an appropriate order on framing guidelines for the grant of remission. "We refuse to be collective participants