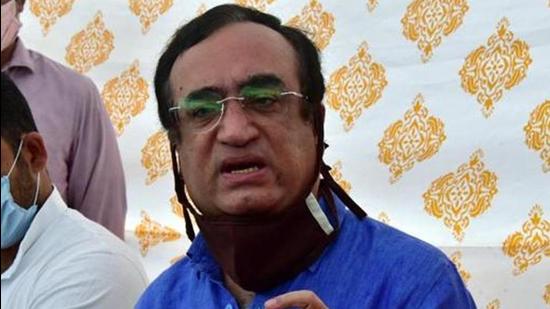 Maken in one on one meeting with Rajasthan Cong MLAs before cabinet rejig
The exercise has been undertaken following a demand by former deputy chief minister Sachin Pilot and his loyalist legislators to be accommodated in the Rajasthan government.
UPDATED ON JUL 28, 2021 09:48 PM IST
In the run up to the cabinet rejig in Rajasthan, All India Congress Committee (AICC) general secretary in-charge of the state Ajay Maken engaged the Congress legislators in a consultation and feedback exercise on Wednesday to gauge their mood.
Maken, who is in the state capital on a two-day visit, held one-on-one discussions with the legislators at the state assembly on Wednesday, inviting criticism from Bharatiya Janata Party (BJP), which called it a misuse of a Constitutional building for a political party's programme.
Congress leaders aware of the developments said Maken had a set of close to a dozen pre-decided questions that he posed to the MLAs to get feedback on ministers' performances in different districts and implementation of state government's flagships schemes. Former BSP MLAs who merged with the Congress as well as independent legislators have also been called to the feedback exercise that would conclude by Thursday evening.
The exercise was undertaken following a demand by former deputy chief minister Sachin Pilot and his loyalist legislators to be accommodated in the government. Pilot and 18 Congress MLAs had revolted against chief minister Ashok Gehlot's leadership in July 2020 and had been demanding an overhaul in the cabinet and political appointments at the earliest. The demand gained momentum after the Congress Central leadership addressed similar disgruntlement in the party's Punjab unit.
Even as Maken was engaging with the MLAs in Jaipur, Pilot was camping in New Delhi, where he was expected to meet the top Congress leaders. Chief minister Ashok Gehlot, on the other hand, will be reviewing the implementation of the party's election manifesto promises.
On the feedback, Transport minister and civil lines MLA Pratap Singh Khacharyiawas said that Congress was a democratic party and the high command hears all its members.
"Chief Minister Ashok Gehlot had said to us that he is our guardian. Maken is also holding meetings as the guardian," he said.
Khachariyawas said there was no dispute in the party and a cabinet reshuffle was the prerogative of the chief minister and a decision on this will be taken in discussion with the party high command.
Chaksu MLA Vedprakash Solanki, a vocal MLA from Sachin Pilot group, said he had apprised Maken of all the issues.
"I gave my suggestions and whatever I had to say, I told him. I am satisfied that our viewpoint is now being communicated directly to the party high command. Now, the high command is not listing only to us, but [is] listening to all [the] MLAs," Solanki said.
At the same time, leader of opposition Gulabchand Kataria said the need to hold one to one discussion with MLAs made it clear that the government was not able to function well.
"Such governments are not able to function well and serve the people," he said.
He also questioned the decision to hold Maken's dialogue with MLAs in the assembly building. Chief Whip Mahesh Joshi dismissed his concerns calling it a meeting of party MLAs.
In the assembly of 200 members, Congress has 106 MLAs while most of the 13 independents are in support of the ruling party.
AICC general secretaries Maken and KC Venugopal had held meeting with Ashok Gehlot over Cabinet reshuffle last Saturday and Sunday.
After Wednesday's feedback meeting, Maken said the entire process of cabinet expansion, and political appointments were nearing completion.
"I am very satisfied with the feedback. The MLAs I met today, over 50, (which also included the disgruntled) appreciated the government and development work done in their respective constituencies," he said.
He claimed that his interaction revealed how things had changed since his interaction with MLAs last year. "I interacted with the MLAs last year (during the internal crisis in state Congress) and now today. There is a huge difference, all are happy and satisfied," he said.
Close