Mamata's painting to be displayed at Rashtrapati Bhavan: President Kovind
Updated on Nov 28, 2017 11:31 PM IST
Her paintings have also been endorsed by two of India's famous contemporary artists - Jogen Chowdhury and Subhaprasanna Bhattacharjee.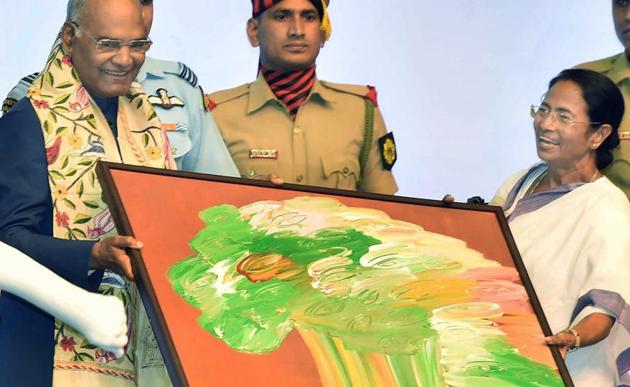 A painting by West Bengal chief minister Mamata Banerjee will now share a gallery with the works of celebrated artists like Maqbool Fida Husain, Jamini Roy and Tilottama Basu among others in the Rashtrapati Bhavan.
President Ram Nath Kovind on Tuesday said that the art work gifted by Banerjee will now find a suitable place at the Rashtrapati Bhavan.
Banerjee gifted the President her painting at the latter's civic reception programme hosted by West Bengal government at Kolkata after Kovind arrived on his maiden visit to the city after becoming the head of state.
"Chief minister gifted me a painting of her own today. I was really amazed to see her painting. This painting will surely be displayed at Rashtrapati Bhavan. At the same time, the painting will always remain close to my heart," he said.
Banerjee's paintings have been subjected to derision with political rivals like the CPI (M) and the Congress claiming that most of her paintings were bought at exorbitant prices by Sudipto Sen, the jailed head of the now defunct Saradha Group which collapsed after a Ponzi scheme went bust.
On the other hand, she has received accolades from renowned painters like Jogen Chowdhury and Subhaprasanna Bhattacharjee, especially for her bold use of colours in her paintings.
At the President's reception on Tuesday, the chief minister was all praise for Kovind.
"I had liked him when I met him for the first time after he was elected as President. He had always maintained an extremely low profile, be it as a Rajya Sabha member or the Governor of Bihar," Banerjee said.
However, her speech on the occasion also had a subtle appeal that President should always be above politics. "The post of President is immensely respectable since he is always above any politics. He is like a guardian, philosopher and guide for all," chief minister said.
The President, in turn, praised Bengal's rich cultural heritage and intellectual acumen of the people, but he also had a word of caution about the "radical forces" in the state. "There is a need to be careful and guard against sources of radicalism," Kovind said.
The BJP which has been trying hard to get a foothold in West Bengal has often accused Banerjee of going soft on Islamic radicals, a charge she denies.
Personalise your news feed. Follow trending topics