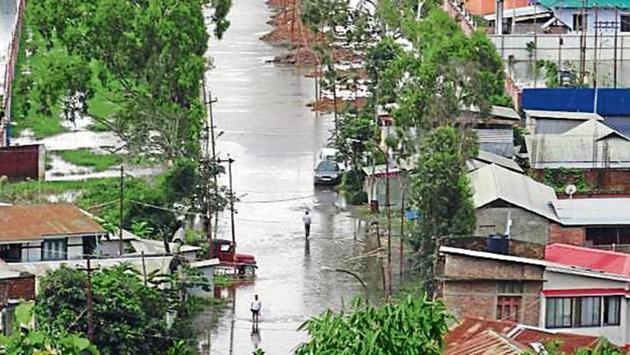 Manipur: Fresh flood threat looms large even as state battles crisis
Several rivers and tributaries in the state have overflowed, due to the sudden increase of water levels in the wake of heavy rains.
Hindustan Times, Imphal | By Sobhapati Samom
UPDATED ON JUL 13, 2017 08:05 AM IST
The threat of fresh flash floods is once again looming large above the existing flood crisis in Manipur in the wake of torrential rains as major rivers started to overflow out of their course, forcing people living near its banks to shift to safer areas on Wednesday.
In view of the heavy rains in the hills in the last 24 hours, the in-flow of water at Iril, Imphal and Thoubal rivers which pass through the important valley districts, known as rice bowl of the state, suddenly increased on Wednesday. This forced the state Irrigation and Flood Control (IFC) department officials to monitor the situation closely.
Meanwhile, Thoubal river and tributaries of some rivers including Manipur river overflowed at various locations due to the sudden increase of water levels in the wake of heavy rains in upper hills of Ukhrul and Senapati districts.Two houses were washed away in Rikhumai Taphou in Senapati on Tuesday.
The situation was also bad in Lamlai area in Imphal East district where more than 14,000 hectares of paddy fields were submerged in the third round of flood.
"We're facing untold miseries after the flood water destroying our crops for the second time.Floods hit the first plantation in June first week," says S Gambhir Mangang, a resident of Lamlai area. "Now we do not know what to do as we're yet to get any support from the government."
Manipur has been suffering from flash floods and landslides due to intense rainfall in the state after Cyclone Mora, which hit the state in May this year.
So far nearly 40,000 hectares of agricultural land, which is about 20% of Manipur's total agriculture area (1.95 lakh hectare), has been affected by floods. In view of the development, state agriculture department had assured that the short duration (100 days) rice variety seeds (RCM-10 and RCM-12) will be distributed to the needy flood affected farmers in the state.
State Agriculture department officials also informed that they'll have to purchase other alternative crops if the flood water continues to remain till August.
The continuous rain in the state also damaged the Imphal-Jiribam sector of the National Highway 37, connecting the state capital with rest of the country, at Sinam village and affecting movement of trucks on Saturday. But the vehicular movement was resumed following short-term measures on Monday.
Most of the low lying areas in Manipur valley which comprises of five districts — Imphal West, Imphal East, Bishnupur,Kakching and Thoubal — have been inundated.
Akampat, Lamphelpat, Porompat,Takyelpat and Yaralpat — located in and around the greater Imphal areas which were once the popular wetlands and now converted into government's institutional areas,quarters, buildings etc — are becoming wetlands again this rainy season due to lack of proper drainage system and the continuous rainfall.
So far Manipur has witnessed 1388.7 mm of rainfall as on July 11 against last year's record of 1852.4 mm, according to the Manipur centre of Indian Council of Agricultural Research.
"Now time has come to formulate a major long-term plan to prevent frequent flooding (in Takyelpat)," says former social welfare Minister and local MLA AK Mirabai.
Close