RS polls: Mayawati says BJP's 'malpractices' will not succeed in breaking SP-BSP ties
Mayawati said the BJP used money, muscle power, and state machinery to win the elections.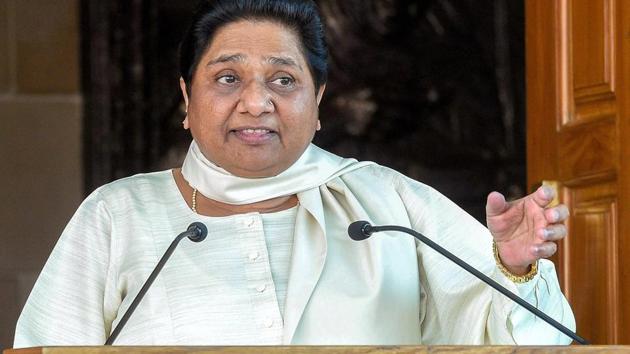 Updated on Mar 24, 2018 11:06 PM IST
Bahujan Samaj Party (BSP) chief Mayawati on Saturday made it clear that the alliance between her party and the Samajwadi Party (SP) will continue despite the defeat of BSP candidate Bhimrao Ambedkar in the Rajya Sabha election.
Ambedkar, supported by SP and Congress, was defeated by BJP's Anil Agrawal for the 10th seat on Friday. "After the loss of the BSP candidate in the RS election, it was being speculated in media that the alliance between BSP and SP will break. But the alliance is very much intact," Mayawati said here.
"I would like to tell the BJP and company that their malpractices will not succeed in breaking the ties between the SP and the BSP. There will not be an iota of difference in the close understanding between the BSP and the SP because of the Rajya Sabha results," she said.
"This loss (Rajya Sabha election) cannot be equated with the BJP's defeat in Gorakhpur and Phulpur Lok Sabha bypolls. In that election, people directly voted against the BJP. But in Rajya Sabha poll, the state government misused all its power to defeat the BSP candidate," said Mayawati while dubbing the BJP's victory for the 10th seat as "immoral".
Mayawati said the ruling party used money, muscle power, and state machinery to win the elections. "The BJP desperately wants the SP-BSP alliance to break before the 2019 Lok Sabha polls. But this will not happen," she said.
UP health minister Sidharth Nath Singh hit back at Mayawati, saying she was frustrated over the defeat and hence was levelling baseless allegations against the BJP.
"Mayawati ji did not receive the return gift, which she had expected from Samajwadi Party chief Akhilesh Yadav. She is disappointed and frustrated that she could not win the Rajya Sabha seat," Singh said.
He added that Mayawati was levelling baseless allegations and becoming a laughing stock.
Further targeting her, Singh accused her of adopting double standards over Suheldev Bharatiya Samaj Party (SBSP) MLA Om Prakash Rajbhar. "When her MLA voted for our Rajya Sabha candidate, then she says money is being used in elections, but when Om Prakash Rajbhar voted for them, she calls it a vote of conscience, Singh said, adding the Rajya Sabha elections were done in a transparent manner.
Mayawati also attacked independent MLA from Kunda, Raghuraj Pratap Singh alias Raja Bhaiyya, who on Saturday voted for SP candidate but had tweeted that he was with Akhilesh but not with Mayawati.
"SP must be careful from people like Raja Bhaiyya. It was the then BSP government which taught a perfect lesson to him," said Mayawati.
It is being speculated that Raja Bhaiyya did not cast his second preference vote to BSP candidate Bhimrao Ambedkar in the election. Instead, he voted for the BJP candidate Anil Agrawal.
The BSP government had put Raja Bhaiyya behind bars when Mayawati was UP CM in 2002.
Replying to a query, Mayawati did not rule out the possibility of Congress as part of the BSP-SP alliance in 2019 Lok Sabha polls. "I am thankful for the support of Congress and SP whose seven MLAs each voted for the BSP candidate as well as one SBSP MLA Kailash Nath Sonkar, who voted as per his conscience and we will stand by him in case he faces any trouble in future," she said.
Meanwhile, UP deputy chief minister Keshav Prasad Maurya claimed that the SP-BSP alliance has proved to be a "complete failure". In an apparent reference to Akhilesh and Mayawati, he said, "The one who could not be loyal to his father and uncle can never be loyal to his 'bua' (aunt)."
"We can say the victory we achieved in 2014 (LS elections), will be repeated in 2019 and Narendra Modi will become PM again," he said. "The Yogi Adityanath government has been trying to wash away the sins committed by SP and BSP governments in the last 15 years."
BSP, RLD, Nishad Party sack MLAs
The BSP, Rashtriya Lok Dal (RLD), and Nishad Party on Saturday expelled one MLA each for cross-voting in favour of BJP candidates in the RS poll.
While BSP expelled Anil Singh, Nishad Party sacked Vijay Mishra and RLD expelled its lone MLA Sahendra Chauhan Ramala. Also, taking cognizance of alleged cross-voting by two MLAs of his party, Suheldev Bharatiya Samaj Party (SBSP) chief Omprakash Rajbhar sought an explanation from them. Nishad Party president Dr Sanjay Nishad sacked Vijay Mishra, MLA from Gyanpur, and said that he would write to the UP assembly speaker to scrap Mishra's membership from the House.
Mamata welcomes Mayawati stand
Kolkata West Bengal chief minister Mamata Banerjee on Saturday welcomed Mayawati's statement that the BSP-SP understanding in UP won't be affected by the Rajya Sabha poll results in the state.
"I welcome the views expressed by Mayawati-ji today. We are strongly with her and @yadavakhilesh in this mission for the nation," Banerjee said in a tweet.
(With inputs from agencies)
Close Story