Meet on SYL issue fails to make breakthrough as Haryana, Punjab stick to their stands
Updated on Jan 04, 2023 11:57 PM IST
While Punjab chief minister Bhagwant Mann said his state does not have "even a single drop of water" to share, his Haryana counterpart Manohar Lal Khattar said the full construction of the canal and getting water through it was a matter of "right" for his state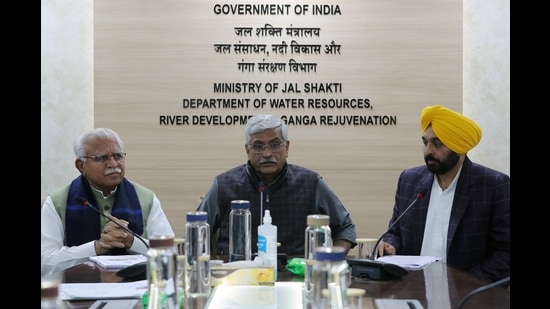 Chandigarh: The impasse over contentious Sutlej-Yamuna Link (SYL) canal issue continued as Punjab and Haryana chief ministers stuck to their stands during a meeting chaired by Union Jal Shakti minister Gajendra Singh Shekhawat in New Delhi on Wednesday.
While Punjab chief minister Bhagwant Mann said his state does not have "even a single drop of water" to share, his Haryana counterpart Manohar Lal Khattar said the full construction of the canal and getting water through it was a matter of "right" for his state.
The Haryana government has been pressing for the implementation of Supreme Court's orders in 2002 and 2004 to complete the remaining portion of SYL canal by Punjab, while the latter has been dragging its feet.
The Supreme Court had in September last year nudged the two chief ministers to meet and work out an amicable solution to the SYL canal row. The apex court is likely to hear the issue on January 19.
During the meeting, Shekhawat asked the two CMs to come up with a solution, people familiar with the development said.
Khattar said Haryana will inform the Supreme Court that Punjab was not abiding by its order in the matter. "Instead of discussing the issue of the construction of the canal, the Punjab chief minister kept on saying there is no water to share," the Haryana chief minister said in a statement. "They are seeking discussion on sharing of water whereas a separate tribunal has been set up for issues related to water sharing. Distribution of water will be done according to the recommendation of the tribunal."
"The Punjab government is not even accepting Supreme Court's decision wherein the Punjab Termination of Agreement Act has been repealed," Khattar said.
Mann said despite being smaller in area, Haryana is getting more water than Punjab. "Ironically, it is demanding more water at the cost of Punjab. How can we give water to Haryana if our fields are parched," he added. "More than 78% of our 150 blocks are in extreme dark zone due to depletion of groundwater table. Punjab can't afford to share its water with any other state."
"At the time when the agreement for the canal was signed, the state was getting 18.56 million acre-feet (MAF) of water, which has now reduced to 12.63 MAF. Haryana is currently getting 14.10 MAF of water from the Sutlej, Yamuna and other rivulets whereas Punjab is getting only 12.63 MAF," Mann said.
Khattar, however, said that under the provision of Punjab Reorganization Act, 1966, and according to a Union government order of March 24, 1976, 3.5 MAF of water was allocated to Haryana out of the surplus water of Ravi-Beas.
"Due to non-completion of SYL canal, Haryana is using only 1.62 MAF of water. Punjab is illegally using about 1.9 MAF of water from Haryana's share by not completing the SYL canal in its region," Khattar alleged.
The SYL canal has been a bone of contention between Punjab and Haryana for decades. Punjab has been maintaining that the quantum of water flowing through Ravi and Beas rivers had come down considerably and therefore, their water volume should be reassessed.
The SYL canal was conceptualised for effective allocation of water from Ravi and Beas rivers. The project envisaged a 214-km canal, of which 122 km was to be in Punjab and 92 km in Haryana. Haryana has completed the project in its territory. Though Punjab took up the work in 1982, it was later shelved.