Mehbooba Mufti meets Rajnath, accuses China of meddling in Kashmir
Jammu and Kashmir chief minister calls on Union home minister to discuss security scenario in the state after the recent attack on Amarnath pilgrims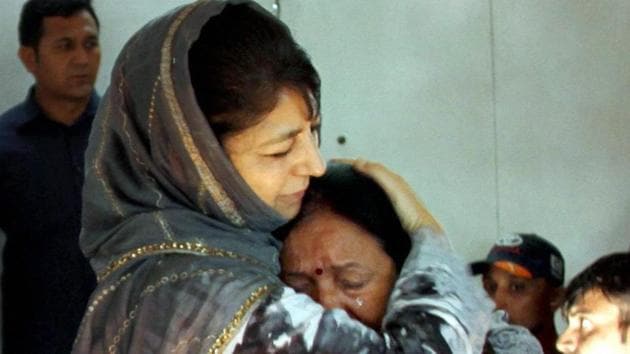 Updated on Jul 16, 2017 10:34 AM IST
Jammu and Kashmir chief minister Mehbooba Mufti on Saturday accused China of meddling in the troubled state that has recently witnessed a spike in violence.
The chief minister was speaking to reporters emerging from a meeting with Union home minister Rajnath Singh with whom she discussed the security situation in the state.
She said the present crisis in Kashmir is not a mere law-and-order problem, adding the fight is against foreign powers.
Earlier it was Pakistan but now there are reports of China meddling in the Kashmir affairs, she said.
"We cannot fight this war alone. We need backing of the whole country and all political parties to emerge victorious," Mehbooba said.
Mufti has earlier blamed Pakistan for the unrest in the state, but this is for the first time she pointed the finger at China.
The allegation comes amid a standoff between Indian and Chinese forces in Doklam at the Sikkim border.
Militants have stepped up attacks in recent months on government forces in the state as counter-insurgency operations intensify.
Mufti's meeting with the home minister in the national capital in the wake of the attack on Amarnath pilgrims on July 10, in which seven persons died, lasted for almost an hour after it commenced at 11.30am.
She termed the attack a conspiracy to whip up communal tension in the state
"Ensuring security of Amarnath Yatra obviously topped the agenda of the meeting," said an aide to the home minister.
Their meeting also came a day after the home minister briefed top opposition leaders on the situation in the valley and steps taken to ensure better security for the Amarnath pilgrims.
The opposition has slammed the government for failing to ensure security of Amarnath Yatris.
The home ministry in consultation with the state government has decided to erect 21 more security pickets on the Amarnath route to check whether any vehicle carrying pilgrims is moving beyond the deadline of 7pm in the Valley. The ill-fated bus that came under attack in the state's Anantnag district had violated the deadline.
Close Story