Choksi returns to Antigua after bail
Choksi had gone missing from Antigua, whose citizenship he holds, on May 23, and was detained by authorities in Dominica, 200km away, the next day, following which his family members had claimed he was abducted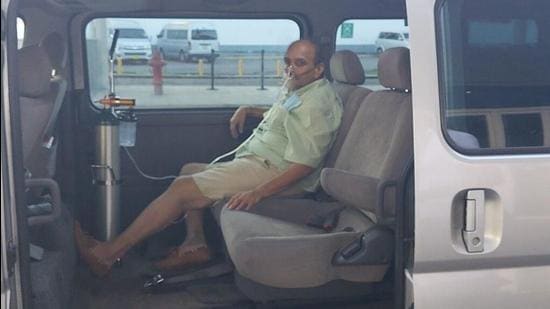 Updated on Jul 16, 2021 03:28 AM IST
By Neeraj Chauhan
, New Delhi
Diamantaire Mehul Choksi on Thursday returned to Antigua and Barbuda, where he is a citizen, three days after a court in Dominica granted him bail on medical grounds. He mysteriously went missing from Antigua on May 23 and was found in Dominica, around 200 km away, the next day.
Choksi's family and legal team blamed India, which has sought his deportation to face trial in the ₹13,578 crore Punjab National Bank (PNB) fraud, and Antigua and Barbuda for abducting him. India even sent a special jet with a team of eight officers to Dominica in the expectation of the country deporting him.
Choksi, 62, spent 52 days in Dominica, where he was charged with "illegal entry". The Dominica high court on Monday allowed his plea to return to Antigua "strictly for medical treatment" and ordered him to return once he is fit to travel. Indian investigators feel Choksi will now never return to Dominica.
Choksi landed at Antigua's VC Bird International Airport in an air ambulance around 3.30 pm Wednesday Caribbean time (Thursday early morning India time). He was received by the island's ministry of foreign affairs officials, people familiar with the matter said. Choksi carried the Dominican court order and did not face any problems with immigration authorities, they added.
Choksi's lawyer, Vijay Aggarwal, said his client has returned home safely. "He faced no issues while entering Antigua. He is receiving medical treatment and his family is feeling relieved. ...torture during kidnapping has caused him a lot of psychological and physical harm. All is well that ends well. After tasting success in Dominica, now the legal team is gearing up for a long-drawn fight in Antigua."
Antigua and Barbuda government said on Wednesday evening that while Choksi has returned from Dominica, the Royal Police Force of the island will continue to investigate his claim of kidnapping. It added that the extradition case brought against him and the case of revocation of his Antiguan citizenship will also continue.
The decisions were taken by the cabinet led by Prime Minister Gaston Browne.
Choksi is facing two cases - extradition and revocation of citizenship (which he acquired in November 2017) - in the Antigua high court.
An Indian team flew to Dominica on May 28 hoping to get Choksi deported. But Choksi's lawyers filed a habeas corpus in the Dominica high court alleging abduction and torture.
India told Dominica in June that Choksi was the mastermind of the PNB fraud and owed ₹7080 crore ($952 million). It also argued that he remained an Indian citizen because the appropriate authority did not accept his application relinquishing Indian citizenship, and sought to have him deported to India, but the matter was adjourned sine die.
HT reported on July 15, citing unnamed officials in investigation agencies that Choksi's return to Antigua could delay his potential extradition to India.
The high court, while granting Choksi bail, said the illegal entry proceedings against Choksi will remain adjourned till he is fit to stand trial. Choksi's arrival in Dominica on May 24 triggered a political controversy with the country's main opposition party accusing the governments of Dominica, Antigua and Barbuda, and India of colluding to abduct the businessman to fly him to New Delhi. The allegations have been rejected by all three governments.
Analysts in Delhi say that Dominica has rid itself of Choksi by agreeing to his bail on Monday as the whole episode has embarrassed the governments in the Caribbean nations. In Antigua and Barbuda, Choksi is fighting two cases over his extradition and the revocation of his citizenship.
Close Story