Meira Kumar is Oppn's pick to fight Kovind in presidential election
Updated on Jun 27, 2017 12:37 PM IST
Meira Kumar, who is a Dalit leader from Bihar, will take on Ram Nath Kovind who resigned as Bihar Governor earlier this week.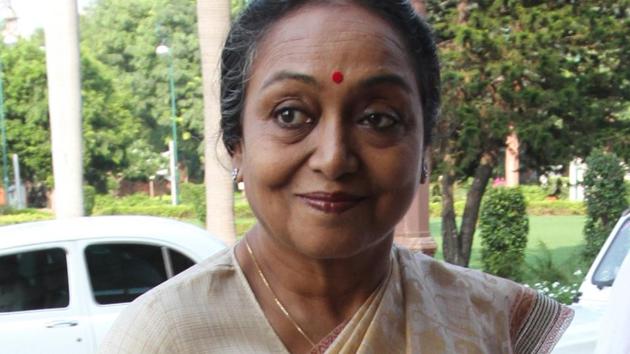 Opposition parties named former Lok Sabha Speaker Meira Kumar as their candidate for the next President of India on Wednesday, setting the stage for a contest between two Dalit leaders on July 17.
Kumar, the daughter of former deputy prime minister Jagjivan Ram, is pitted against the BJP-led National Democratic Alliance (NDA) candidate Ram Nath Kovind, who is the favourite to succeed President Pranab Mukherjee.
Still, Kumar's candidature is being seen as a well-considered move that can bring pressure on leaders who broke ranks with the opposition over these polls, especially Bihar chief minister Nitish Kumar for backing a BJP candidate and not a Dalit woman from his state.
The fielding of Meira Kumar is also seen as an attempt by the opposition to undercut the BJP's outreach to Dalits through Kovind's candidature. Shortly after the meeting attended by 17 opposition parties, BSP chief Mayawati announced her support for Meira Kumar, who had made her Parliament debut by defeating the former Uttar Pradesh chief minister from Bijnor in 1985. Mayawati had said she would support Kovind if the opposition didn't pick a Dalit candidate.
Meira Kumar's candidature was announced by Congress chief Sonia Gandhi. "We do hope that other parties also join us," Gandhi said, in what many felt was a signal to JD (U) Nitish Kumar to reconsider his decision.
But Nitish Kumar's ally in government and RJD chief, Lalu Prasad, was more direct, saying the Bihar chief minister should not make a "historic blunder" by supporting the NDA candidate.
Thursday's meeting, also attended by former NDA ally Rashtriya Lok Dal, also discussed the names of Gopal Krishna Gandhi, Prakash Ambedkar and economist Balchandra Mungekar.
A diplomat-turned-politician, Kumar was India's first woman Speaker in the Lok Sabha.
Kovind's victory is a fait accompli with the NDA and others including the BJD, the AIADMK, the TRS, and the YSR Congress taking the tally past a comfortable majority in an electoral college that has about 11 lakh votes.
At Thursday's meeting, NCP leader Sharad Pawar proposed three names: Sushil Kumar Shinde, Bhalchandra Mungekar and Meira Kumar. RJD leader Lalu Yadav supported Meira Kumar; as the CPI(M) favoured Prakash Ambedkar and Gopal Krishna Gandhi.
The BSP, represented by Satish Chandra Mishra, supported Meira Kumar's candidature.
While Sonia Gandhi said there was no anguish over Nitish Kumar's absence, Lalu Yadav said parties should appeal to the JD (U) chief to reconsider his decision to support an NDA candidate.
Soon after Kumar's name was finalised, Sonia Gandhi, Manmohan Singh, Derek o'Brien of the Trinamool Congress, CPI-M's Sitaram Yechury and other leaders signed her nomination papers.
She is likely to file her nomination on June 27 or 28.
Personalise your news feed. Follow trending topics