Metres away from Mt Everest summit, Briton turns around to save Bengali woman
Leslie John Binns was just 450 metres away from Mt Everest's summit but abandoned his quest when he came across Sunita Hazra. The woman was low on oxygen supply and could've died if Binns had not helped out.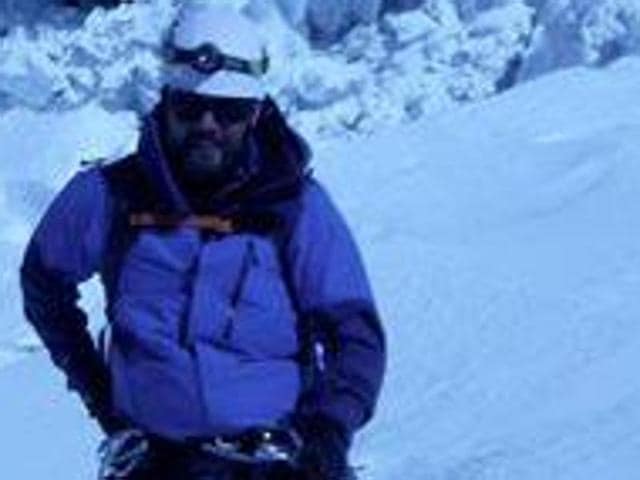 Updated on Jun 02, 2016 03:50 PM IST
Had Leslie John Binns completed his trek up Mount Everest in the last week of May, his name would have been added to a list of 5,000-odd mountaineers (4,042 climbers till February 2014) who have scaled the world's highest peak since the first ascent by Sir Edmund Hilary and Tenzing Norgay in 1953.
But, the British ex-serviceman abandoned his quest barely 450 metres before the summit to save a fellow mountaineer, and now stands out among the countless who have trod the same path.
Congratulatory messages have poured in from across the world, hailing Binns as a hero for giving up on reaching the summit when within kissing distance – a dream and life achievement for any mountaineer that close to the top.
The Britisher, who served in Bosnia, Iraq and Afghanistan and lost one eye in an IED explosion, turned around to save Sunita Hazra – an Indian woman who had scaled the summit only a few hours before.
"Sometimes the peak is not the summit. This man from Yorkshire reached higher than the top of Mount Everest, a place that is taller than any pinnacle of sporting achievement. He is the only member of a team who could not make it. Yet, he shall remain one of the greatest that went on the trail. Because he showed humanity, compassion and conscience. Leslie, you are a role model to every mountaineer in the world," posted Subhojit Roy, a Bengali mountaineer.
Binns act was widely shared as a Facebook post, going viral among mountaineers and non-climbers alike.
"Incredible. Rescuing two & cutting his dream of reaching the summit. Selfless & incredibly brave man. The mountain isn't going anywhere, I hope he gets another crack at her soon," said Adrian Cunliffe, a mountaineer who climbed Mount Kilimanjaro in just five days last year to raise funds for a cancer foundation.
Binss' wife Lindsey Empringham was also flooded with messages on her social media account as well.
Binns had set out from the UK on April 4 for his Mt Everest expedition and was set to reach the summit on May 22. But in the final hours of his endeavour, he came across Hazra who was low on oxygen and had slipped while on her way down.
Talking to a TV channel from Kathmandu on Wednesday, Binns admitted to having mixed feelings about what happened, but was glad of his decision. "Of course I felt sad because I could not climb the summit. But I am happy that I have saved a life. I have received messages from many people. It really feels good."
A grateful Hazra said she was indebted to Binns.
"I owe my life to him. I could return home to see my child. What else can I say?" Hazra told a TV channel on Wednesday. She became the first Bengali mother to have reached the summit.
"Leslie John Binns saved climber's life on summit day. George Kashouh and Gary Ervin helped too. Good work team!," tweeted mountaineer Dan Mazur. Kashous, Ervin and Binns were members of the same team. While Binns abandoned his venture, the two others made it to the summit.
C Michael Fairman, who worked for the US Marines, described in detail Binns' sacrifice on Facebook.
"On his summit attempt, just shy of the balcony, a young Indian lady had slipped on her descent and fell landing at the anchor next to Les. She had been in distress due to depletion and supposedly no replenishment of her O2, and now she was injured from the fall. Les without hesitation aborted his summit bid to assist and help her down," he wrote.
Binns changed out her O2 bottle and tried to get her moving. Though climbers passed by, nobody apparently stopped to help Binns or Hazra. He finally clipped her to him and began dragging her down.
"As she drifted in and out, Les came across another man from her team who was also in distress. Screaming and yelling at the man to stand up and fight for his life, Les eventually clipped the man onto himself as well. Sliding, falling, crawling, Les continued to make his way down with these two climbers, while others continued to walk by even as he was yelling for help. A white out had now engulfed them, and as the neared the South Col, Les was unable to continue with both victims."
Binns eventually unclipped the man and encouraged him to keep moving. Though the man was stuck in the storm all night before help arrived, Binns was able to reach his tent with Hazra.
"She was suffering bad from altitude, hypothermia, and frostbite. Her hand had been ungloved and now swollen. Les had warm soup from a thermos that he used to rewarm her hand... Several deaths occurred this day, and the outcome of these two remains unknown, but one thing that is not a mystery is the heroic actions of Les. I am humbled and yet so proud to have come to know him over the months, and his actions come as no surprise," the former marine wrote.
Close Story