UP election: Modi accuses SP, BSP of pursuing selective development
Updated on Mar 06, 2017 01:49 AM IST
He says the two parties have created a culture of 'kuch logo ka saath, kuch logo ka vikas' in politics for the sake of votes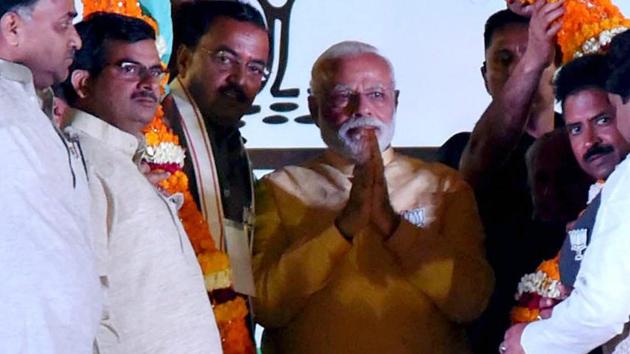 Prime Minister Narendra Modi said on Sunday the SP and the BSP created a culture of 'kuch logo ka saath, kuch logo ka vikas' in politics for the sake of votes.
Addressing a poll rally at Mahatma Gandhi Kashi Vidya Peeth ground in Varanasi, Modi said the culture propounded by the two parties in the state was in sharp contrast to BJP's 'sabka saath, sabka vikas'.
"This will not work. We want development of one and all," Modi said adding, "SP and BSP are birds of the same feather."
Making a strong pitch for development, the Prime Minister said he wanted to ensure there was no dearth of employment avenues for youths, medicines for elderly people and growth all around.
Dwelling on the problems of his Lok Sabha constituency, Modi accused previous governments of carrying only "sporadic works" to cater to their political interests.
"But such sporadic development would not help Banaras. Extensive and all round development is required in Banaras," he said.
He also assured to develop the eastern part of UP at par with the state's relatively prosperous western areas.
"The region has immense potential and is full of natural resources. It only needed a good government to change its fortune," he claimed.
"My dream is to ensure all round development of Banaras by keeping intact its spirit. Banaras can become a well developed city, if hurdles on the way of development are removed. We will ensure it," Modi said, stressing on the need to harness the tourism potential of the ancient city.
Justifying his government's decision to demonetise high-value banknotes, he said after November 8 (the day he made the controversial announcement), the nation had seen who wanted to protect the interest of dishonest people.
For the last 70 years leaders and babus had looted the country, he said adding he wanted to bring out those ill-gotten money from their coffers.
"I will not let any honest people to suffer. Time has come when honest people would be hailed and no one will dare to harass them," Modi said.
He also referred to various scams that allegedly surfaced during the previous Congress-led UPA regimes.
He also flayed opposition parties for "seeking evidences" of the surgical strike and asked people whether it was appropriate to ask such question. "Those who put such question don't have respect for the brave soldiers of the country," he said.
Close Story
Personalise your news feed. Follow trending topics