Small towns, local planning keys to urban India: PM Modi
Updated on Sep 21, 2022 05:00 AM IST
In a virtual address to mayors of urban bodies ruled by the Bharatiya Janata Party (BJP), Prime Minister Narendra Modi pushed for holistic development of cities and localised plans for urbanisation, which he said were key to national progress.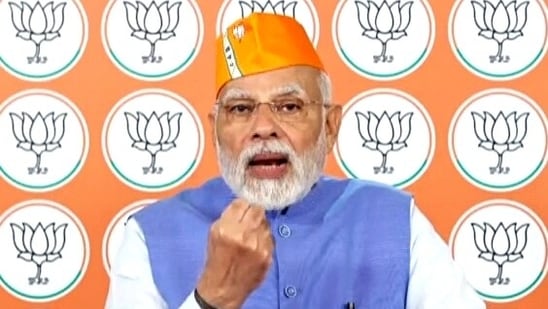 State governments and city administrations should create satellite towns and develop smaller cities into economic centres to ease the population pressure on metropolises, Prime Minister Narendra Modi said on Tuesday, focussing on decentralised urbanisation and laying out a road map for the next 25 years to take India forward.
In a virtual address to mayors of urban bodies ruled by the Bharatiya Janata Party (BJP), the PM pushed for holistic development of cities and localised plans for urbanisation, which he said were key to national progress.
"There is a huge potential of smaller towns and cities as economic centres. Apart from satellite towns, we need to focus on tier two and tier three cities because these can also be centres of economic activity. Most of the startups now are being set up in tier two and tier three cities," Modi said.
Also Read| Sikh delegation meets PM Modi at his residence to offer blessings
"This will ease the pressure on the bigger cities and economic opportunities in those places will be provided. We should also increase industrial clusters in such places and understand what are the opportunities to be explored."
Modi was speaking after virtually inaugurating an all-India conference of mayors of BJP-ruled cities, held in Gandhinagar. A total of 118 mayors and deputy mayors from 18 states and Union Territories are participating in the two-day event. In previous speeches, Modi has spoken about how urbanisation was key to realising his Independence Day pledge of making India a developed nation by 2047.
The PM urged mayors and other local elected representatives to spend time with the poor beneficiaries (of government schemes) to understand their issues and work on the beautification of cities. He also focussed on decentralised urbanisation as a critical driver of India's future.
"Urbanisation will happen and the populations in cities will go up. Mayors need to ensure that their cities have economic opportunities...It is important to ensure that planning is decentralised. Everything cannot be done from Delhi," he said.
Roughly 400 million people, or 34% of the population, live in 4,400 statutory towns and cities in India — technically classified as urban centres. According to the World Urbanization Prospects: 2018 Revision (WUP, 2018), at the current rate of growth, the number of people in these centres is likely to swell to 600 million by 2030. The WUP, 2018 also projected that by 2050, half of India's population will live in cities.
With most cities already stretched on resources, this growth rate presents an enormous policy challenge in areas of basic health, education, sanitation and infrastructure.
In recent decades, Tier II and III cities — defined as centres with population between 50,000 and 99,999 (Tier II) and between 20,000 and 49,999 (Tier III) — have emerged as key levers of growth with rising aspirations and educational standards and fewer of the challenges of space and amenities that big cities face.
In his speech, Modi cited his experience of developing satellite towns when he was the chief minister of Gujarat and said transport services were provided in the 40-50 km area around Ahmedabad to develop smaller cities.
He also stressed on the need for standardisation in urban planning and capacity building and putting an end to casual and ad hoc planning. "If you plan well, you will see good results. We need to have transparency in decisionmaking and focus on how the urban local bodies can be made self-reliant," he added.
Modi, who has pushed for public participation in campaigns for cleanliness and conservation of resources since becoming PM in 2014, asked mayors to focus on awareness about the spending on infrastructure. School students particularly should be made aware of spending on public infrastructure to create a sense of responsibility, he said.
Modi called for a need to draft policies for street vendors. "The smaller roadside sellers are the ones who serve the city the most and are the driving force of the economy," he said. "Do we have a plan for them?"
Also Read| India has risen in stature under PM Modi: Yogi
Mayors must encourage vendors to utilise PM SVANidhi, which seeks to facilitate collateral-free working capital loans, he said. there is a need to change habits and for bringing in behavioural changes, the Prime Minister said.
"Some people clean their homes and leave rubbish outside others' houses; that has to change. We have to teach them how to save power, water and pay taxes on time and undertake cleanliness drives. This will require a lot of hard work but the mayors can do it easily," he said.
Not everything requires money and most of the work can be done through public participation, he pointed out.
Modi asked the mayors to focus on solid waste management and to come up with scientific solutions to global warming. He called for organising competitions to judge the beautification of cities and said there should be city museums documenting history.
"Had we been political about the Azadi Ka Amrit Mahotsav (celebrating 75 years of India's independence), we would have created a pillar or a victory monument or a gate to commemorate Independence," Modi said. "But what we did was to create water bodies as this will serve humanity. This is how we will commemorate our independence and also create things for the future."
Topics
Personalise your news feed. Follow trending topics