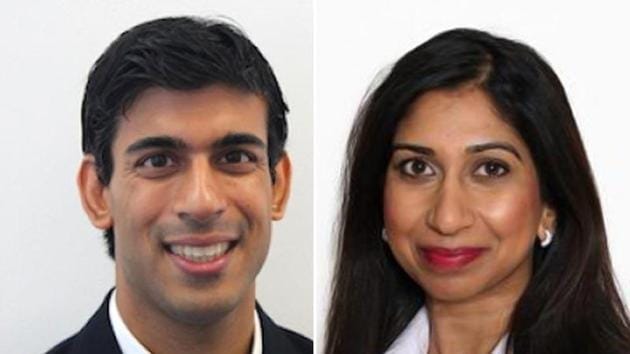 Narayana Murthy's son-in-law among record 15 Indian-origin winners in UK polls
The election of 15 MPs of Indian extraction is a new record for the 1.5 million-strong community: they include seven each from Conservative and Labour parties; and for the first time, one from the Liberal Democrats.
UPDATED ON DEC 14, 2019 10:09 AM IST
Fifteen Indian-origin MPs are among 65 non-whites elected to the new 650-member House of Commons on Friday, reflecting 10 per cent of its strength and making it ethnically the most diverse house in British political history.
The last House had 52 MPs from non-white backgrounds, reflecting progressive growth over the decades, building on efforts by various parties and stakeholders to make the British parliament more representative of its population.
The election of 15 MPs of Indian extraction is a new record for the 1.5 million-strong community: they include eight from Labour and seven from the Conservative party. There were 12 such MPs in the last House.
Also, for the first time, more ethnic minority women were elected than men. In 2009 there were only two ethnic minority women MPs; ten years on there are 37 women MPs, according to an analysis of ethnicity of new MPs by think-tank British Future.
Labour's Indian-origin candidates survived the party's poor performance, while the Conservative party increased its tally of MPs from the community from five to seven. The cohort of Indian-origin MPs has four new faces.
The new faces in the Conservative group are Gagan Mohindra (Hertforshire South West) and Claire Coutinho (Surrey East), while its five sitting MPs were re-elected: Priti Patel (Witham), Alok Sharma (Reading West), Shailesh Vara (Cambridgeshire North West), Suella Braverman (Fareham) and Rishi Sunak (Richmond, Yorkshire). Sunak is the son-in-law of Infosys co-founder Narayana Murthy.
Three of them, who were part of the outgoing Boris Johnson government, are likely to be reappointed: Patel (home secretary), Sharma (international development secretary) and Sunak (chief secretary to the Treasury).
Navendu Mishra (Stockport) and Nadia Whittome (Nottingham East) are the new faces in Labour's group, while its six outgoing MPs were re-elected with convincing margins: Virendra Sharma (Ealing Southall), Tanmanjeet Singh Dhesi (Slough), Seema Malhotra (Feltham and Heston), Preet Kaur Gill (Birmingham Edgbaston), Lisa Nandy (Wigan) and Valerie Vaz (Walsall South).
Whittome, 23, becomes the youngest MP in the new House of Commons.
Leicester East, which was held by Keith Vaz for 32 years since 1987, was retained by Labour in the face of a concerted campaign by sections of the Indian community in favour of the Conservative candidate, Bhupen Dave.
Conservative candidate Sanjoy Sen, a chemical engineer, was narrowly defeated by Labour's Mark Tami in Alyn & Deeside. Sen polled 18,058 votes to Tami's 18,271.
Sections of the community campaigned on social media and on the streets against the Labour party for its stand on Kashmir and for nominating a non-Indian origin candidate from Leicester East (Claudia Webbe).
According to Josh Westerling of British Future, "The 'Class of 2019' new MPs will also be the largest ever intake of new ethnic minority MPs, with 19 new MPs from an ethnic minority background entering parliament".
"The rapid acceleration in this decade is now helping to give us a more representative parliament. The number of ethnic minority MPs has risen at each of the last nine General Elections, since the first four black and Asian MPs of the post-war era were elected in 1987".
"But progress was very slow for that breakthrough generation, edging up from four to fifteen MPs over several elections in the two decades between 1987 and 2005.
The first three Indian-origin MPs in British history were Dadabhai Naoroji (1892, Finsbury Central), Mancherjee Bhownagree (1895, Bethnal Green North East) and Shapurji Saklatvala (1922, 1924, Battersea North).
There was then a gap of 63 years before Labour's Keith Vaz was elected from Leicester East in 1987. Vaz did not contest Thursday's election.
Close