Country in India's neighbourhood is 'mother ship' of terror: PM Modi
Updated on Oct 16, 2016 01:42 PM IST
The "mother ship" of terrorism is a country in India's neighbourhood and extremist modules across the world are linked to it, Prime Minister Narendra Modi said on Sunday, referring to Pakistan.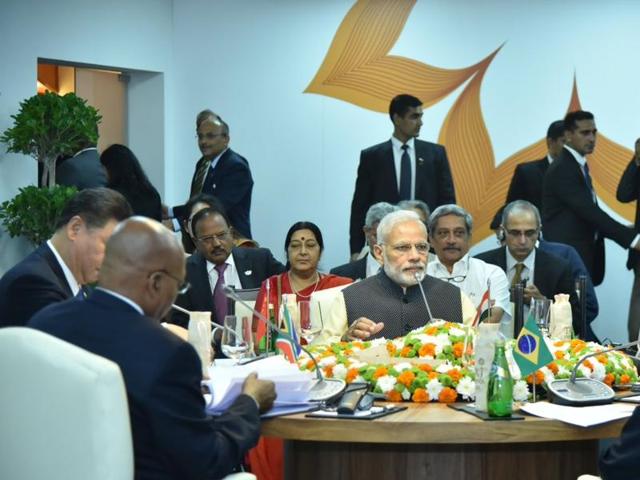 Hindustan Times |
, Benaulim,goa
Rajesh Mahapatra and Jayanth Jacob
Prime Minister Narendra Modi said on Sunday the "mother ship" of terrorism is a country in India's neighbourhood and terror modules around the world are linked to it.
The scathing but unnamed attack on Pakistan came as leaders of the five emerging economies of Brazil, India, Russia, India and China (BRICS) began their summit meeting in Goa.
He urged the BRICS leaders to speak out in one voice against terrorism.
"Tragically, the mother-ship of terrorism is a country in India's neighbourhood. Terror modules across the world are linked to this mother-ship," Modi said, according to a statement issued by the foreign ministry .
"This country shelters not just terrorists. It nurtures a mindset. A mindset that loudly proclaims that terrorism is justifiable for political gains."
The Indian prime minister is striving for a common ground among the five member nations of BRICS – Brazil, Russia, India, China and South Africa – on cross-border terrorism, of which India has been a victim for decades. At the ongoing summit of leaders from these countries, which comes weeks after a deadly militant attack on the Indian army base in Uri, Modi is pushing for a stronger statement on terrorism that would help isolate Pakistan.
As BRICS leaders got into huddle on Sunday, Modi urged them again to "speak in one voice against terrorism."
On Saturday, while Russian President Vladimir Putin strongly condemned terrorism in all forms, prompting Modi to say Moscow's stand on the issue "mirrors our own", Indian officials speaking about the prime minister's meeting with Chinese President Xi Jinping used rather defensive language, signalling little progress in those talks.
Beijing gave no assurance on supporting New Delhi's bid on a United Nations ban against Pakistan-based militant leader Masood Azhar, saying no more than that terrorism was a "key issue" and the two sides should strengthen their security dialogue and partnership.
"We can only convey our concerns. It is up to them to review their decision. We expect China will see logic in it," foreign ministry spokesperson Vikas Swarup said.
China is blocking India's attempt to put Jaish-e-Mohammed chief Azhar on a UN list of proscribed terrorists, a key objective for the Modi government. Pakistan-based Jaish was blamed for the Uri attack, which left 19 soldiers dead and further strained New Delhi's relations with Islamabad. India has since launched a campaign to isolate Pakistan and is looking to use the meeting of BRICS nations for its campaign against Azhar.
On day two of the BRICS Summit in Goa, leaders of the member states will hold a plenary summit, where they are likely to issue a joint declaration after the meeting. Later in the day, BRICS leaders will meet their counterpart from the BIMSTEC group of countries comprising Bangladesh, Myanmar, Sri Lanka, Bhutan, Nepal and Thailand.
The outreach to BIMSTEC is a first-of-its-kind initiative for BRICS, which aims to exploring new opportunities for trade and business exchanges between the two groups but is also expected to be used by India to ramp up support against Pakistan.
Earlier on Sunday, Modi met with Sri Lankan President Sirisena and Bhutanese Prime Minister Tshering Tobgay. Through Sunday and Monday, he is scheduled to meet other BIMSTEC leaders, including Myanmar's state counsellor Aung San Suu Kyi who arrived this morning.
For full coverage of 8th BRICS Summit, click here
Close Story
Personalise your news feed. Follow trending topics