Pakistan's BAT in focus after mutilation of soldiers: All about the rogue unit
Updated on May 02, 2017 03:46 PM IST
Pakistani forces killed two Indian soldiers and mutilated their bodies along the Line of Control on Monday morning, the army's Northern Command said while promising to "appropriately respond" to the "despicable act".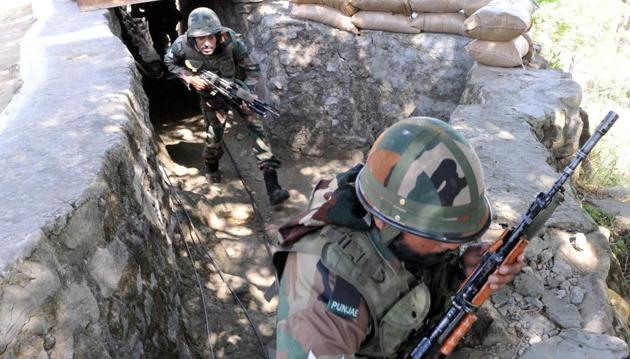 The beheading of two Indian soldiers in a cross-LoC raid on Monday in Jammu and Kashmir by Pakistani forces has once again shone the spotlight on Pakistan army's border action team (BAT), notorious for such gruesome attacks across the de facto border.
Head constable Prem Sagar of 200th Battalion of the BSF and naib subedar Paramjeet Singh of 22 Sikh of the army were killed when their 10-member patrol party was attacked by the rogue hit squad that sneaked 200 metres into Indian territory in Krishna Ghati sector in Poonch district.
The Border Security Force said on Tuesday the strike was well-planned by Pakistan and the BAT had regular army men and militants.
Here are a few facts about the rogue team that has hit India hard on many occasions:
1. Pakistan specifically uses BAT for raids across the Line of Control.
2. The Pakistan army's elite special services group forms the core of BAT. Its primary task is to dominate the LoC by carrying out disruptive actions in the form of surreptitious raids.
3. The rogue teams mostly consist of regular soldiers but militants, too, accompany them on specific missions, Indian army officers have said.
4. Special services group commandos are among the best trained in Pakistan and are also called Black Storks due to the unique headgear they wear.
5. Short and swift raids by BAT are not a new phenomenon and have been carried at regular intervals along the LoC.
BAT action was responsible for Indian soldier Hemraj's beheading and the cold-blooded murder of five other soldiers in separate cross-border assaults in 2013.
6. Such teams can have anywhere between four to 10 people. "Pakistan army encourages such action along the LoC. It has been going on for a while," lieutenant general Vinod Bhatia (retd), who was India's director general of military operation during 2012-14.